WEB EXCLUSIVE:
Broad Perspective
Exploring the Broad Expanse of Intellectual Property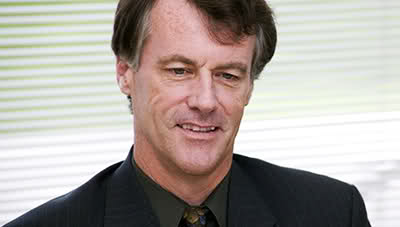 The furious pace of advancement in medical research provides John Prince '97 with one of the most complicated and challenging legal jobs in the country.
As Functional Patent Head for the Novartis Institute for Biomedical Research in Cambridge, Mass., Prince and his team carry responsibility for protecting the intellectual property interests of the pharmaceutical giant's scientific endeavors, whether conducted by the company itself, or increasingly in partnership with university-based scientists and smaller companies pursing similar discoveries.
Few patent lawyers in the nation are more qualified, especially scientifically, to handle these challenges. Prince obtained a Ph.D. in biology from MIT and conducted research at the National Institutes of Health and the Sanford-Burnham Medical Research Institute in La Jolla before he decided to enter California Western in the mid '90s. Prince says it would not be possible to do his work effectively without the skills from both scientific and legal disciplines.
"In the past decade or so, biotechnology has become one of the fastest moving and most fascinating fields," Prince says. "We no longer can focus on simple patent law. We've had to significantly expand the scope of what intellectual property means when it comes to highly complex discoveries that lead to some amazing treatments and in some cases, as with our drug Gleevec, an actual cure (for chronic myeloid leukemia).
"We also have to stay abreast of other areas of law that impact our research, including contract law to guide our many scientific and business partnerships, and antitrust law to protect Novartis' from potential challenges from governments. And it's all the more challenging because as an international company, we have to be fully versed not just in the patent law of the U.S., but the equally complex but often contradictory regulations in every country where Novartis distributes its pharmaceuticals."
One of the best parts of his job, Prince says, is being involved in projects where the goal is as much advancing scientific knowledge and improving patient care as it is making a profit for the company.
"Whether it's supporting orphan drug research to treat diseases that only affect small populations of patients, or investing in projects where the goal is to move the science forward, we often support research that isn't always simply bottom-line oriented. I really enjoy being involved in a field that takes what nature provides and uses science and creativity to develop it into a safe drug that has a significant impact on the lives of those who need it most."
---
BOB ROSS • RES IPSA ONLINE