TOP STORY:
Broad Perspective
Former Presidential Appointee Brings Health Care to Private Sector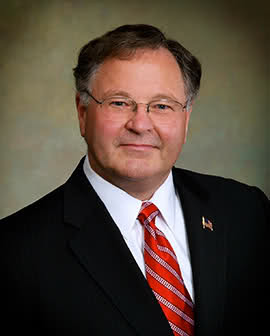 It is a tribute to the quality of California Western's legal education that many of its highest-achieving graduates credit the school with putting them on a path for success. Tim S. McClain '78, who reached the height of government legal service when President Bush appointed him general counsel of the U.S. Department of Veteran Affairs in 2001, is a perfect example.
In the mid-1970s, the Naval Academy graduate had served five years as a surface warfare officer when he decided on a law career. His three years at California Western confirmed he had made the right choice.
"I had a terrific experience at California Western," says McClain. "It was the perfect school for someone like me who was making a career shift. With the help of some outstanding professors, the school could not have prepared me better for the kinds of law I would practice in the decades that followed."
McClain's legal experience after leaving California Western has been wide-ranging. He served 15 years with the Navy's JAG corps, retiring as a military judge. A decade of private practice followed at two San Diego law firms before his presidential appointment. As the VA's top attorney, he supervised 400 lawyers and advised the secretary on myriad legal issues involving federal healthcare law, veterans' disability benefits, federal regulations, and employment law.
The skills he acquired at California Western and through two decades as a lawyer were excellent preparation for McClain's most recent career shift to top business executive. Last year he was named president and CEO of Humana Veterans Healthcare Services in Louisville, which contracts with the VA to provide veterans with healthcare outside the VA system.
"I'm grateful for having developed the ability to think logically and present my arguments clearly, and then use the art of persuasion to accomplish key goals - from motivating staff members to negotiating major contracts. These legal skills that have become second nature to me now have been critically important to my success in a business environment."