TOP STORY:
Broad Perspective
Bringing Intellect, Skill, and Vision to the Nexus of Law and Science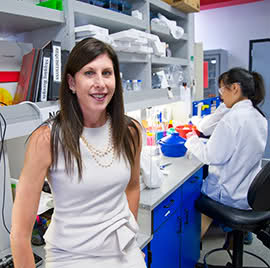 In the field of intellectual property protection nationally, there are a handful brilliant patent lawyers whose unique combination of intellect, legal skills, technical knowledge, and sheer drive make them true MVPs for their firms and clients. Lisa Tumarkin Haile '91 is one such superstar.
As a partner and co-chair of the Global Life Sciences Sector for DLA Piper, a 3,500-attorney international law firm, Haile isn't just an outstanding lawyer. She holds a Ph.D. in microbiology and immunology from Georgetown University School of Medicine, scientific training that enables her to better understand the biological underpinnings of the discoveries she's been hired to protect. What makes Haile a triple threat is the business development acumen she's attained over two decades - a skill that enables her to look down the road and advise her clients on potential commercial applications for their discoveries.
The San Diego-based Haile relies on every skill she has to keep up with fast-moving world of biotechnology.
"With the huge advances in scientific knowledge, including the successful sequencing of the human genome and the almost daily announcement of new and powerful therapeutic drugs, we're truly in one of the most exciting biological eras in history, and that, I'm happy to say, keeps me extremely busy."
On any given day, Haile may show a small biotech firm how to license a new drug therapy, offer IP protection advice to a pharmaceutical giant that has found new applications for a blockbuster drug that's about to go generic, counsel university-based scientists on FDA regulations for clinical trials, or help a groundbreaking DNA researcher navigate the increasingly complicated and controversial maze of patenting genes. The latter issue has become a critical challenge for Haile and her peers.
"There is a view, including by a handful of courts, that genes and DNA are naturally occurring and novel research on them can't be protected," Haile says. "My position is that if scientists and the companies backing them have invested major sums and years of research, and possess the creativity and insight to develop a unique diagnostic test or valuable therapy, why shouldn't they be rewarded with a patent? This is the basis for how invention and discovery has always worked in this country and I believe ultimately the higher courts will agree these types of discoveries should be protected."