TOP STORY:
Broad Perspective
Scholars Combine Passion for Teaching with Engagement in Key Issues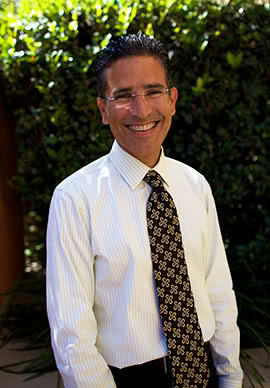 Not only do California Western alumni make their mark on the national stage; many of the professors at their alma mater continue to have an equally important impact through their advocacy on major issues about which they are passionate. Associate Dean William J. Aceves and Bryan A. Liang, E. Donald Shapiro Distinguished Professor of Law and Director of the Institute of Health Law Studies are among those who combine a passion for teaching with a desire to engage in key national issues.
Since joining the faculty in 1998, Aceves has earned a national reputation for tirelessly defending human rights and pushing the U.S. legal system to follow international law norms. He has represented numerous human rights and civil liberty organizations as amicus curiae counsel in cases before the federal courts, and was the principle author of Amnesty International's USA report on torture.
Aceves invests much of his energy in increasing awareness of the disturbing gap between U.S. and international law, especially where the rights of terrorist detainees and other foreign prisoners are involved.
He is extremely disappointed that President Obama's policies - while making strides in some areas - have not significantly changed from those of the Bush Administration.
"We can't seem to find a balance between protecting civil rights and guarding against terrorism. It's going to be very difficult to have an effective dialogue with countries with very different cultures if we aren't able to affirm the values our country was founded on. The further removed we get from that, the more comfortable we become in isolating, separating, and distancing ourselves from people who are different from us."
On an equally contentious issue, health care, Liang has become a nationally respected advocate and prolific scholar. For a quarter century, he has focused on increasing patient safety and access to health care while pressing for safer and better drugs.
Liang has enjoyed many career accomplishments, but two stand out: helping write the Patient Safety and Quality Improvement Act of 2005, and pushing hard for - and influencing - President Obama's health care reform legislation. The latter process offers real insight into the victories but also deep frustrations experienced public policy advocates.
"I was proud that the hard work we did here in California to stop the practice of health insurers rescinding the policies of sick patients was acknowledged by Congress in a similar ban included in the Affordable Care Act of 2010," Liang says.
However, he is concerned that the few benefits for consumers that are included in the new law could easily be watered down at the regulatory stage.
"What we fought for could still be lost, thanks to the excessive power put in the hands of the federal bureaucrats to interpret and implement the legislation.
"Fortunately, as advocates, we're not going away. We're going to stay on top of this because it's our job to keep people honest, to ensure transparency, and make sure we protect the interests of those who don't have the time and resources to fight their own battles. It's a responsibility we take extremely seriously and one we're privileged to carry out."