TOP STORY:
Broad Perspective
Demanding Justice for Victims of Gulf Oil Spill
One of the most massive and complicated legal battlegrounds in history has grown out of the BP Gulf oil spill, and Richard Meadow '84 is one of the true warriors in the fight to protect the rights of those affected by the disaster. Meadow manages the New York office of The Lanier Law Firm, founded by Houston's Mark Lanier, one of the nation's top product liability lawyers.
Meadow is well equipped for combat. Ranked among New York's top attorneys and a member of the New York State Trial Lawyers Association board, Meadow was on the team that secured more than $300 million for plaintiffs suing Merck for its Vioxx arthritis drug. Now he and a dozen lawyers he oversees have their hands full representing families, business owners who lost income or even their livelihoods, property owners, and investors.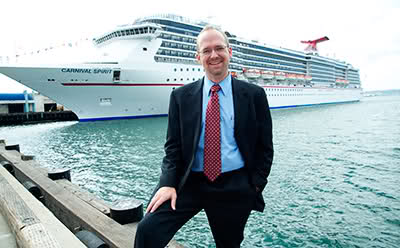 "Ken Feinberg (claims czar) says with BP's $20 billion compensation fund there's no need for lawyers. Call me a cynic, but I think BP will still try to get away with paying a little as possible. We did the initial paperwork for free for those making claims to the fund, but many of these people can barely read or write. Some are so desperate they feel like they have to take whatever is offered, even if it's unfair.
"We're using the law to add a layer of sunlight and transparency to keep the defendants honest. People have already told us how much they appreciate help with something they said they could never have done on their own. For me, there's no greater feeling than that."
Back in San Diego, maritime lawyer Sterling Stires '98, has more than a passing interest in the legal fallout from the oil spill, particularly the suit filed by Transocean Ltd., owner and operator of the Deepwater Horizon drilling rig, to limit its liability in the case to just under $27 million. Under maritime law, a vessel owner is liable only for the post-accident value of the vessel and cargo, so long as the owner can show he or she had no knowledge of negligence in the accident. The drilling rig is considered a vessel.
Stires, a rising talent who was just named Managing Shareholder for the new San Diego office of Holmes Weddle & Barcott, is deeply concerned the bad publicity that resulted from Transocean's legal maneuver, and the resulting threats in Congress to repeal the law, could derail one of the most effective tools he has to defend his shipping and oil rig clients against personal injury and other claims.
"Transocean truly blundered here, and its failure to consider all the repercussions could turn 160 years of maritime law on its head," Stires says.
Ironically, this all comes as Stires basks in the glow of success over one of his own Limitation of Liability cases, one that is setting precedent. In a jet ski accident that injured two young women on San Diego's Mission Bay, Stires convinced the U.S. Ninth Circuit Court of Appeals that although the bay is an enclosed recreational body of water and isn't on the open sea, certain characteristics make it subject to maritime law. That means Stires could limit the liability of the jet-ski rental company to the $6,000 estimated value of the jet ski, not the millions the women are suing for.
"The Ninth Circuit's decision is pretty significant, and it will impact future cases involving admiralty and maritime law jurisdiction issues. To know maritime law well enough to apply it creatively in a non-traditional manner, and then to receive a published decision backing me up from one of our most important judicial bodies is definitely the highlight of my career so far," Stires says.