TOP STORY:
Broad Perspective
On the Vanguard of Key Technological Advances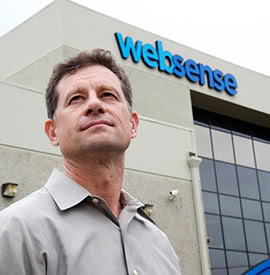 As J.T. Taylor '96 looks back on his fascinating career path the past 15 years, he's aware that he's not only worked for a number of outstanding companies, he's done so at critical times when major technology advances were sweeping the country. Among his jobs: attorney advisor at the FCC in Washington, D.C., general counsel at Titan Wireless, senior counsel at Gateway Inc., director of business and legal affairs at Walt Disney and (currently) senior director and group counsel at Websense in San Diego.
"I don't know if it's coincidence, good timing or a combination of both, but I've really had an amazing career," Taylor says. "I got to the FCC on the heels of the Telecommunications Act of 1996 that spawned telecom competition. I moved to Titan when satellite communication was on the rise, landed at Gateway when the personal computer and the Internet were exploding, and joined Disney at the early stage of electronic distribution of content. And today, I'm at a major web security company just as cyber threats and Internet privacy and protection have become critical worldwide issues."
At every job, Taylor, who's been named one of San Diego's Top Attorneys for Intellectual Property transactions, has faced two steep challenges that all technology lawyers grapple with: the inability of the law to keep pace with fast-moving technology, and the difficulty the lawyers have themselves staying on top of all the technical and resulting legal issues.
"The law always lags behind technology. Cybercriminals have adapted strategies to attack social websites with dynamic user-generated content. Attacks are now more sophisticated, and targeted. We have to educate our clients that any information on the Internet is vulnerable and must be protected accordingly.
Taylor adds, "As for keeping abreast of everything, there isn't a day that goes by that I'm not amazed at how much I still need to learn. In addition to my regular work, I probably invest half again as many hours in keeping abreast of technology advancements just so I can do my job properly."