ALUMNI PROFILES:
Nine Decades of Alumni Outcomes
Andrew Jones '96
From growing up poor while staring down racism in rural Florida, to starting law school at age 43, and locking horns with then-San Diego Mayor Bob Filner, Andrew Jones '96 has faced many obstacles in his life and career—and overcome them all.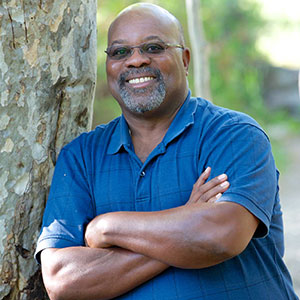 Jones' determination, along with the support he says he received from countless individuals—many at California Western—led him to a distinguished 18-year career with the San Diego City Attorney's office, where he ultimately rose to the number two position as Executive Assistant City Attorney before retiring earlier this year.
The son of a migrant worker and a mother who had her first children at age 18 and six more by age 20 (three sets of twins), Jones probably would have never escaped a life of poverty had he not been put in a gifted class of 30 students who were challenged and encouraged throughout elementary school.
In high school, he stood up to a white teacher who gave him an F on an essay, claiming he couldn't have written it because black kids "can't write that well." "On the spot, I wrote another essay and told her I expected an A and got it," Jones recalls.
After college, Jones worked in retail management, did a stint in the Army, and worked in the insurance industry before deciding to go to law school. He was accepted to and visited eight schools, but only at California Western did he feel at home.
"California Western was wonderful, and the professors and staff were critical to who I became. They didn't just pay lip service to diversity, they embraced it. The school supported and challenged me in every way possible so that I could excel. What I learned—especially the trial skills—I ended up using every day of my career at the city."
That career included a well-publicized tussle with Filner, who had him ejected from a closed-door meeting after accusing him of leaking information. Jones refused to be intimidated and is still baffled by the former mayor's bizarre behavior. "Filner's self-inflicted demise was a tragedy because I had high hopes for him."
Jones' public service days are far from over. He will devote the rest of his life to a foundation he and his wife started to honor their son Abram, who died in 2006.
"We're going to create a summer academy to mentor kids and equip them with skills while exposing them to great role models who look like them, and who have achieved success—not as pro athletes and hip hop stars—but as scientists, lawyers, and teachers. If we don't invest in our youth—and not just African American and other minority kids—and give them a vision and a path to success, then our country, which is already in trouble, will be truly lost. I refuse to sit around and watch that happen."
// RES IPSA ONLINE