ALUMNI PROFILES:
Nine Decades of Alumni Outcomes
Sandra J. Morris '69
California Western graduates make history both on and off campus. The graduating class of 1969 included five women, the largest single class of women in the school's history to that point. One of those women was Sandra J. Morris, who went on to great success as a leader in juvenile and matrimonial law in San Diego, and who continues to lead the way today in alternative dispute resolution.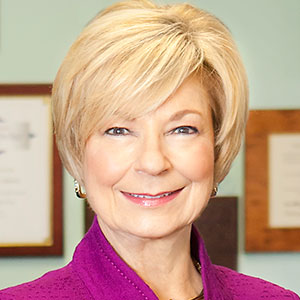 Morris recalls an egalitarian spirit on the Point Loma campus, with classmates and professors who treated women students fairly.
"Perhaps that didn't prepare me," says Morris of her post-law school life where, like many women lawyers of her day, she experienced blatant discrimination in the workplace. All five women in that historic class had fairly similar experiences.

"Some were told that male attorneys' wives wouldn't allow them to work with a woman lawyer or that secretaries couldn't work for a woman," Morris says. She went into practice with her husband in El Cajon in 1970 and became the only woman member of the Foothills Bar Association.
Fed up with watching her friends experience this type of treatment, Morris and several other women lawyers worked together to create a proactive legal organization, founding the Lawyers' Club of San Diego in 1972. Morris later served on its board of directors.
"All of those women were superstars," she says, referring to her fellow "founding mothers" who broke down barriers in San Diego, including the exclusion of women from the dining room of several high-profile restaurants during lunchtime. She recalls the story that the late Judge Madge Bradley was denied entry to a judges' lunch at the U.S. Grant because they did not allow women.
The historic 1967 U.S. Supreme Court decision In re Gault—granting juveniles in dependency cases the same due process rights as adults—created a significant need for qualified attorneys willing to take on these types of cases. Morris became the first woman in San Diego on the court-appointed counsel list for juvenile defendants. She later became president of the San Diego Community Child Abuse Coordinating Council and the Juvenile Court Committee of the San Diego County Bar Association, and served on the State Bar of California's Juvenile Justice Committee.
After an intense 10-year emphasis on juvenile law, Morris refocused her energy on family and matrimonial law. She was among the first attorneys in California named as a State Bar Certified Family Law Specialist in 1980. She continued to find great success as a lawyer and a trailblazer, serving as president of the Southern California Chapter of the Academy of Matrimonial Lawyers in 1987. She was elected president of the American Academy of Matrimonial Lawyers in 2002, only the second attorney from California ever to be elected to that office. She was also selected as a Diplomate in the American College of Family Trial Lawyers, which is limited to the top 100 family law trial attorneys in the U.S.
More than 40 years after leaving the bluff-top Point Loma campus, Morris feels confident that the grounding in the law she received as a student—especially the critical thinking skills—served her in many ways during her time in practice.
// RES IPSA ONLINE