ALUMNI PROFILES:
Nine Decades of Alumni Outcomes
Keith M. Kaneshiro '76
"No matter how fast a fish swims, he never sweats." Keith M. Kaneshiro '76 recalls these words from California Western Dean Robert K. Castetter, his criminal law professor and a significant influence on the lives of many graduates of that era.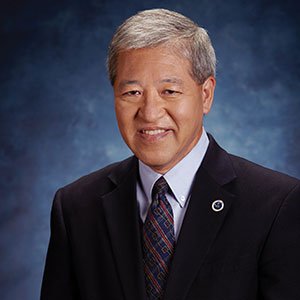 "He realized a lot of students were in shock their first year," Kaneshiro says of Castetter. "He eased it with humor."
Kaneshiro admits to feeling that shock during his first year of law school, when he was faced with a new way of thinking and a new style of classroom engagement—the Socratic method.
After completing his undergraduate studies in Chicago, Kaneshiro selected a law school with a climate more similar to that of his native Hawaii, where he could be free of distraction and focus on his legal studies. Although he had family in Los Angeles, he knew he wanted to study in San Diego.
After graduation, Kaneshiro returned to Hawaii where he started his career as a deputy prosecutor. In 1989, he was elected Prosecuting Attorney for the City and County of Honolulu. After serving two terms he spent 14 years in private practice, including criminal defense, before being elected again as Prosecuting Attorney in 2010.
Kaneshiro credits the legal writing and research skills he developed at California Western, as well as the ability to think critically about legal issues, for his success in practice.
"I'm still old-fashioned," he says, preferring to look up and study cases in the library rather than through digital resources like Westlaw. "You spend a lot of time but it is more comprehensive. Otherwise you can miss cases or miss the reasoning behind cases."
As chief prosecutor for Honolulu, Kaneshiro developed a number of programs to help victims of crime and give a voice to the voiceless. Among his accomplishments are the development of a drug court based on the successful court developed by former Attorney General Janet Reno, programs focused on elder and child abuse, animal cruelty, and the establishment of a family justice center based on a model developed in San Diego. He also launched a courthouse dog program to help ease trauma for crime victims, particularly children.
"My idea of a prosecutor is that you are a spokesperson for public safety," he says. "You have to find ways to make the public safer."
Kaneshiro worried that domestic violence victims were recanting and refusing to testify out of fear that they had no place to go other than back to their abusive homes. He took the concept of comprehensive services for domestic violence victims one step further, creating long-term transitional housing for victims that also provided educational and job training services.
"Victims need to be able to get out of a violent environment to a place where they can be independent and develop self-esteem," he says.
Pending before the Honolulu City Council is approval to purchase a piece of property to develop 24 one-bedroom units. The program will offer victims two years of housing and support services.
Kaneshiro regularly hires California Western graduates as prosecutors in his office, including the first two attorneys he recruited upon his election and his most recent hire. He knows they will be able to hit the ground running and produce quality legal work.
"If I could hire more, I would," he says.
// RES IPSA ONLINE