FACULTY PROFILE:
Linda Morton
Making a Difference in the Lives of Others
HIGHLIGHTS:
Professor of Law; joined California Western in 1989
Faculty Liaison, Community Law Project; Board Member, Institute of Health Law Studies
J.D. Northeastern University, B.A. Princeton University
Courses Taught: Internship; Internship Seminar; Advanced Mediation; Problem Solving and Prevention in Health Care; Negotiation; Interviewing, Counseling and Negotiation
Profile Page: Linda Morton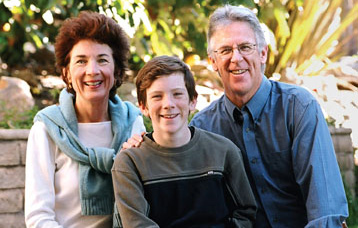 She was just 10 years old, but Linda Morton started on a very special path in life when she volunteered to sell light bulbs door to door to help raise money for her aunt's grass roots public action organization.
That early experience in her native Baltimore was one of several that ignited a lifelong passion in Morton to help others - a passion that burns as strongly as ever today at California Western, where she has built a remarkable career as one the school's most creative and committed professors.
Over the past two decades, Morton has been a driving force in turning California Western into one of the nation's leading law schools for community service (see cover story). Among her many accomplishments: co-founding California Western's Pro Bono Honors Program, launching the Community Law Project, co-founding with Professor Floralynn Einesman the Advanced Mediation Program, volunteering as a mediator and guiding students in helping the community address local public health issues.
The impact of Morton's work is immeasurable, but it's safe to say the lives of countless underprivileged and underserved San Diegans have been improved through the free legal assistance they have received. At the same time, her programs have given several thousand law students a unique opportunity to give back while gaining skills and compassion they could never have developed if they hadn't ventured outside the classroom.
Morton gives much of the credit for her life's direction to her aunt, Frances Morton Froelicher, who in 1941 founded Baltimore's Citizens Planning and Housing Association.
"Aunt Francie was a wonderful role model and mentor," Morton says. "She was deeply committed to public service and encouraged me to volunteer. I remember in college in the 70s when my main interest was saving the world, I asked her if I should study social work or go to law school. Without hesitation she said, 'Go to a law school. You'll have more power as a lawyer.'"
From that point on, volunteering and pro bono work would play a major role at every stage in Morton's life. As an undergraduate at Princeton University, she volunteered at Planned Parenthood in Newark and an education program at New Jersey State Prison. For law school, she chose Northeastern University because it was among the nation's leading public interest law schools.
When she opened a solo practice in Boston, many of her clients were referred to her by the public defender's office. On the side, she volunteered on immigration and political asylum cases and taught trial advocacy and appellate writing to inmates at Norfolk State Prison.
Morton's first teaching position was at the University of Florida College of Law, where she also made time to volunteer as a juvenile arbitrator and an anti-death penalty coordinator for Amnesty International. In 1989 she came to California Western, a move she believes was serendipitous.
"I could sense a tremendous energy, camaraderie, creativity, and openness to new ideas at California Western that I hadn't experienced before," she says. "The support from the dean, the faculty, students, and alumni of my efforts to get students out into the community and bring public service to the school has been incredible."
That support encourages Morton to constantly think of new ways to involve California Western in helping San Diego. Right now, she's in discussions with the Legal Aid Society of San Diego to expand their existing medical-legal partnership to include a local hospital and/or community clinic. The purpose of the partnership is to assist low-income patients and to provide law students with another opportunity to learn and give back.
"I'm never more excited than when I see our committed students go out into the real world to use their skills and compassion to help people. One of my favorite quotes is, 'If you have knowledge, let others light their candles with it.' California Western's faculty and students have this gift of knowledge and I'm proud that so many of us are eager to share it with those in our community who have no where else to turn."
---
BOB ROSS • RES IPSA ONLINE