COVER STORY:
Using the Law to Change Lives
Our Commitment to Pro Bono Service
California Western places a high value on giving back, a value shared by students, faculty, and alumni.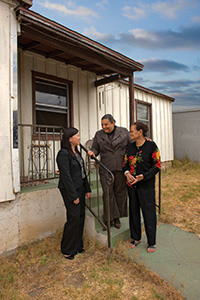 Just two blocks from campus, a homeless man with failing kidneys is guided through a maze of legal and health issues to receive critically needed care. To the north, in Vista, a domestic violence victim feels safer because she's quickly able to obtain a restraining order against her abusive husband.
In Santa Barbara, families rebuild their lives after a wildfire destroys their home, a wrongly convicted man is set free in central California after 22 years in prison and, 3,000 miles away in Chile, citizens enjoy expanded legal rights thanks to a revamped judicial system.
All of these success stories have one thing in common: they were made possible through the hard work and commitment of California Western School of Law students, faculty, and alumni who volunteered their time to ensure those without access or knowledge of the legal system were equipped with the advice and counsel they needed to surmount major problems.
California Western's dedication to community service transcends the legal realm because it has such a significant impact on the economic, social, and political lives of the underserved - locally, regionally, and globally: It's the legal counsel a refugee relies on to secure asylum to avoid deportation to her violent homeland; the assistance an HIV/AIDS patient receives to successfully fight for full SSA disability benefits; the advice a senior citizen uses to keep from being evicted from her home; the knowledge an underprivileged high school student learns that shows him the legal system isn't something to be feared and actually might be his future profession; and it's the law students in California Western's Pro Bono Program whose many thousands of pro bono hours each year are vital to 30 local nonprofit organizations and their clients (see the Community Law Project sidebar).
"Just as pro bono work is an obligation of the legal profession, community service is an obligation of law schools and one we take very seriously here at California Western," says Dean Steven R. Smith. "That's why we're a leader in this area among law schools across the country and why we're always striving to do more. We once compiled a list of the various ways our students, faculty, and staff were involved in community service over a three-year period and even we were amazed because it showed there were literally thousands of activities we were engaged in."