SIDEBAR:
Community Law Project
An Opportunity to Change Lives, Gain Real-World Experience

The challenges facing those who have no access to housing, medical care, or legal assistance often are overwhelming. Complicating the issue is the fact that there aren't nearly enough resources in the community to assist all those who need help.
California Western created the Community Law Project to address this growing gap while providing law students a unique opportunity to develop legal and life skills they could never acquire in the classroom. Professor Linda Morton and Professor Kenneth Klein, at the time pro bono director for a local law firm, helped create the project in 2004.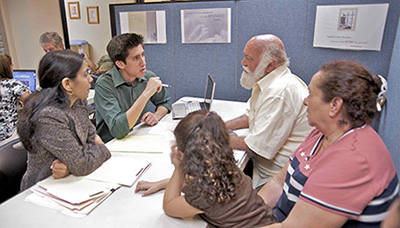 The project serves as the legal assistance arm of the UCSD Student-Run Free Clinic Project. The clinic, which has provided health care services to thousands of San Diegans in need, was started in the 1990s by Ellen Beck, M.D, Clinical Professor in the Department of Family and Preventive Medicine at UCSD, along with students at the UCSD School of Medicine. Housed at the First Lutheran Church near the California Western campus, the project is operated in partnership with the church's Third Avenue Charitable Organization (TACO) and several other local social service organizations.
"Every Monday night we provide a one-stop clinic where people can have many of their health, legal, and social service needs taken care of. And that's appropriate because these kinds of issues are almost always intertwined and require a comprehensive, collaborative approach to solve," says Anaheeta Z. Kolah '04, a volunteer who has donated thousands of hours serving as Executive Director.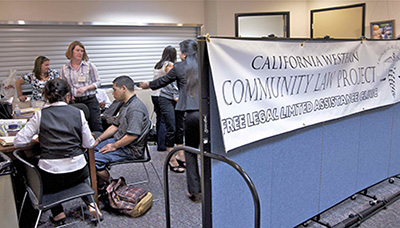 Case in point: a homeless immigrant with a psychiatric illness was in dire need of kidney surgery. Unfortunately, he had no identification of any kind. In a classic Catch-22, he wasn't even allowed to enter government buildings to apply for i.d. because he couldn't show an i.d. to the guards. Finally, a kindly guard took a chance and let the man and a project team in and he was able to obtain i.d. Even so, it took months to fight through layers of bureaucratic red tape, but eventually a green card was obtained, as was eligibility for temporary county medical insurance that would cover the operation's cost.
"The project is really an exciting and fulfilling environment for our law students, almost like working in an emergency room," Kolah says. "After a two-hour training I put the students to work immediately interviewing clients, researching legal issues, and assisting our wonderful volunteer attorneys. They come out of the experience changed individuals because they've seen on a very personal level what it means to help people who have put their trust - and lives, really, in their hands."
---
BOB ROSS • RES IPSA ONLINE