FACULTY PROFILE:
Kenneth Klein
Translating Experience Into Education
HIGHLIGHTS:
Assistant Professor of Law, joined California Western in 2008
J.D. University of Texas School of Law [with highest honors]
B.A. Rice University [cum laude, Political Science, Philosophy, and Legal Studies]
Courses Taught: Evidence, Civil Procedure I & II, Legal Lessons of Katrina and Other Natural Disasters (seminar)
Profile Page: Ken Klein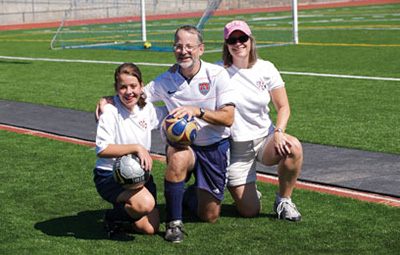 By all rights, Kenneth Klein today should be one of Texas' top-producing furniture sales reps. Instead, he's a popular California Western assistant professor and increasingly confident legal scholar who believes no less than that the U.S. Supreme Court has been wrong on a major constitutional issue for the past 200 years.
To explain this divergence of fates, you have to go back to the late 70s and early 80s when Klein, a native of Dallas, spent his high school and college summers crisscrossing Texas helping his father sell furniture for a consortium of major manufacturers.
"I assumed I would one day take over my dad's territory, but it turned out he wanted to keep working," Klein recalls. "He only retired two years ago at age 80. I had to do something so I decided to go to law school because it looked really interesting."
At the University of Texas School of Law, Klein finished in the top 10 in his class and served on the law review, in the process meeting his future wife, Lisa Black, also a California Western faculty member.
In 1987 the couple moved to San Diego, where Klein worked at Gray Cary Ames & Frye until 1994, when he got the bug to teach. After two years as an assistant professor at the New England School of Law in Boston, Klein returned to San Diego to private practice at Brobeck, then at Hayes Simpson Greene, and finally at Foley and Lardner. But enduring several major life challenges during that period made Klein realize he wanted something more satisfying, and that was a return to teaching.
"All sorts of things happened to make me see what's really important in life," Klein says. "Our daughter was diagnosed with a serious but treatable genetic disorder, we lost our home in the Cedar wildfire in 2003, and Lisa battled through breast cancer in 2006. Last year, I had a quadruple bypass but was lucky not only that the surgery was successful but that I had an offer to join California Western."
Klein was thrilled to return to teaching and enjoys both the classroom and interacting with students, as well as researching and writing on legal issues he finds interesting. One issue on which he has gained expertise is the Seventh Amendment to the Constitution, guaranteeing the right to a jury trial in civil cases.
"My fascination with this issue began in law school when my professor said that not all cases have a jury right, and how it's determined is essentially based on how an 18th Century English common law court would rule. I thought that was one of the most ridiculous things I had ever heard and was the equivalent of asking how the War of Roses would have turned out if both sides had had airplanes."
Klein contends the interpretation has been "based on sketchy history and questionable legal reasoning" and should be modified or risk a rapidly expanding hole in coverage of the Seventh Amendment. In an article slated for an upcoming issue of the Nebraska Law Review, Klein will argue that even more serious erosion has come with the Supreme Court's recent Ashcroft v. Iqbal ruling that significantly increases the factual detail required under federal civil procedure rules.
"This decision - which is a major change in the rules of civil procedure and confirms the tightening of federal pleading standards - further endangers Seventh Amendment rights. It will likely be the most important civil procedure decision of most of our law students' working careers, but I think the Court has a huge constitutional problem on its hands without even noticing it."
Klein is looking forward to many years at California Western.
"I couldn't be happier. My students are gracious and engaged and frequently let me know I've made a real difference their lives. I'm surrounded by wonderful colleagues who are sincerely eager to help me succeed. I had 25 great years in private practice, but I'm blessed now to be in a profession where I can translate that experience into meaningful and practical education. Walk through any graveyard and you won't see a single headstone that talks how many hours someone billed. But you will see some that mention someone was a good teacher."
---
BOB ROSS • RES IPSA ONLINE