COVER STORY:
A Look Back at California Western's Remarkable Journey
Odyssey of a Law School: George N. Gafford
"Amidst all the gloom and doom, the future looked bleak for the school and for all of us . . . my thoughts centered on what I might do to preserve the law school as a viable institution."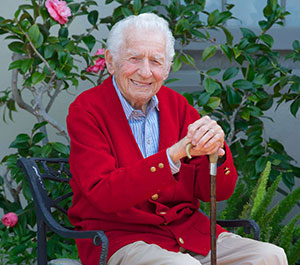 Those grim words were written by Professor Emeritus George N. Gafford in Odyssey of a Law School, his 2001 personal biography of California Western. Gafford had reason to be fearful: in the mid-1970s, the school was in dire financial straits, professors were fleeing, and the school's accreditation was in jeopardy.
For Gafford—who joined the faculty in 1969 after running a successful law practice in Ohio—the crisis jolted him into action, as he had come to love teaching law and living in San Diego.
Now 98 and retired in La Jolla, Gafford recalls that after much thought, and drawing on his business acquisition experience from his private practice days, he proposed an unusual solution to Dean Robert Castetter.
"We were part of United States International University (USIU), but I knew we had to become independent to survive, so I came up with the idea of buying the law school from USIU. The only problem was we didn't have any money. I ended up working out a deal with USIU in which we bought our independence by assuming all of the university's law school-related debts. We were able to then make the payments out of the school's operating income and we were on our way."
That agreement was pivotal in putting California Western on the independent course it has stayed on ever since, a path Gafford believes has been instrumental in becoming a strong, vibrant law school.
"We've been able shape our own destiny, to make improvements, and to innovate without having to get approval from a university senate or three layers of academic bureaucracy," Gafford says. "This freedom has been the foundation for everything we've done in the years since, from making the school practice-focused and creating the STEPPS program, to launching the California Innocence Project and so many other public service efforts."
Gafford continued teaching and contributing to the school's excellence until he retired in 1986. The moot courtroom in the 350 Cedar Street classroom building and the intramural trial competition both proudly bear his name, and honor his role in launching the school's team competitions. After he retired, Gafford joined the Board of Trustees, serving the school for another 25 years until leaving the board last year.
With a remarkable total service of nearly 45 years, Gafford has witnessed half of California Western's 90-year history.
"What pleases me most is that this great school has trained so many wonderful and dedicated lawyers who have proudly represented California Western in the legal realm," Gafford says. "Our students and what they achieve are California Western's ultimate legacy, and I couldn't be more thrilled to see them out there making real and lasting contributions to our community, our country, and the world."
BOB ROSS // RES IPSA ONLINE