FACULTY PROFILE:
Richard J. Finkmoore
A Passion for Environmental Law
HIGHLIGHTS:
Professor of Law; joined California Western in 1988
J.D. Stanford Law School; B.A. Stanford University [with Distinction, Phi Beta Kappa]
Courses Taught: Property I & II, Environmental Law (U.S.), International Environmental Law, The Environmental Law of NAFTA, Environmental Law Seminar
Profile Page: Richard J. Finkmoore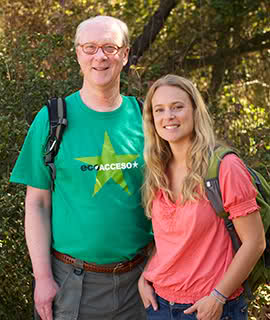 If Professor Richard J. Finkmoore's love of the outdoors, his talent for teaching environmental law, and his passion for protecting the world's natural resources have brought him to one of the most satisfying and productive periods in his life, his enjoyment is tempered by feelings of frustration and worry.
Finkmoore is deeply troubled that the human race is not doing enough to reverse the fast-moving global climate disruption he believes threatens life on the planet as we know it.
"I sometimes say I am both blessed and cursed," Finkmoore says. "I'm doing what I've always wanted to do, and I'm proud to have educated so many students about environmental issues. Because of my research interests, I'm pretty well informed about the great environmental challenges facing humanity - which is good. But because of that, I'm also more aware than most people about the dangers facing us if we don't to begin now to dramatically change our ways - which is very unsettling."
The burden of that knowledge might deter a less-resilient person. For Finkmoore, as a product of 1960s' Northern California activism, it only serves to kick his motivation for change into a higher gear.
Finkmoore was born in Burbank but his family soon moved north, first to Dixon, a small agricultural town near Sacramento where his father worked in his grandfather's department store, and then to Fremont in the Bay Area. Accepted at Stanford, Finkmoore was quickly bitten by two bugs that would influence his future. He began to explore the outdoors through hiking and backpacking, and he got caught up in the idealism of the '60s that was sweeping campuses across the country.
"As I grew to love the outdoors I saw the impacts that urban sprawl and other forces were having on open spaces and natural areas," he recalls. "The late 1960s was also an incredibly exciting time, not only with the budding environmental and women's movements, but the turmoil surrounding civil rights and the Vietnam War.
"There was feeling that everything was up for debate, that change really was possible. Many of us could also see that law could be a powerful tool for change in society. The Legal Services Corporation had just been established and the first public interest law firms were being created. That's what attracted me and many others to law school in the early 1970s."
Staying at Stanford, Finkmoore laid the groundwork for his environmental career during law school, serving as publications director of the Stanford Environmental Law Society, interning with the then-new Natural Resources Defense Council, and teaching a course to undergraduates on California land use issues, such as the battle to save the Mineral King Valley in the Sierras. After graduating in 1974, he taught Legal Skills at U.C. Berkeley School of Law.
An opportunity for him and his wife to move to scenic Washington State pulled Finkmoore away from his environmental career path for a period, but not from his enjoyment in being outdoors. He clerked for a Washington Supreme Court justice, served as an assistant state attorney general, and was a partner in a private practice in Olympia. But he also made time to hike and backpack in the Cascade Mountains, the Olympic Peninsula, in national parks, forests, and wildlife refuges. This contact with nature strengthened his interest in the environment and the law that protects it.
Eventually, however, he recognized that the interests he developed during law school - including teaching - were his true interests and he was excited to join the California Western faculty in 1988. Here he has truly found his niche, teaching several environmental law courses and staying active by advising the school's Environmental Law Society and doing pro bono work for Defenders of the Wildlife, among other causes. He also served for many years as a visiting professor of environmental studies at UC San Diego.
"It's a great pleasure and privilege to teach and provide career guidance to really engaged students who will use environmental law to make a difference," Finkmoore says. This is partly why he published a casebook entitled Environmental Law and the Values of Nature. "I want my students to develop environmental literacy and a connection with nature, as well as master the law."
Never far from Finkmoore's mind, however, is the deteriorating state of the global environment - and his compulsion to do something about it. "Global climate disruption is now the defining issue for the human species, and the question is whether we, especially in the United States, have the will to make the fundamental changes necessary to keep climate change from spinning out of control," Finkmoore says.
---
BOB ROSS • RES IPSA ONLINE