STORY:
Law Review, Law Journal Celebrate Anniversaries
Decades of Perspective Benefiting Students, Legal Profession
For the past 45 years, high-achieving second and third-year students have honed their skills and demonstrated their legal acumen as authors and editors of the California Western Law Review.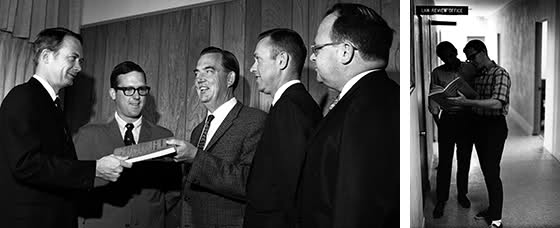 The student-run publication, which started in 1965 under the tutelage of the late Dean Robert K. Castetter, is a barometer of the legal talent that has been nurtured over the years at San Diego's oldest law school.
A sister publication, the California Western International Law Journal, celebrates its 40th anniversary this year and is among the oldest international law journals in the nation.
Together, these scholarly journals allow law students to explore and expound on a wide range of topics and to expand the school's influence by publishing the works of legal luminaries.
Even though the lead article in the inaugural edition pontificated on the legal nitty-gritty of underground utilities, a somewhat mundane subject, "we thought it was marvelous," says Melvyn B. Stein '65, who wrote an article and served as the Law Review book editor.
"It was the beginning of something which the law school could be proud of, and it gained us recognition we had not had before," says Stein, a private practice lawyer in San Diego.
Jeffrey S. Issacs '68, a partner with Procopio in San Diego, served as Law Review editor in 1968. He was forced to be resourceful and persistent to entice legal scholars to contribute articles because, at that time, California Western was relatively small and had been accredited by the American Bar Association for just six years.
"I attended law review conferences and got to rub elbows with editors from law schools much closer to the top of the food chain," Issacs recalls. "The conclusion I came away with is that California Western could compete with those guys, and so could I."
The publication gained national attention in 1985, when an article on the Racketeer Influenced and Corrupt Organizations Act (RICO) was cited in a decision by the U.S. Supreme Court.
As for the International Law Journal, "I would put it up against anyone's," says current faculty advisor Roberta K.Thyfault '84.
Serving on the law review's editorial board was a seminal experience for Deputy District Attorney Kristen D. Spieler '94, who was named San Diego Prosecutor of the Year in 2008.
"Very early on it helped me realize how important the written argument is," says Spieler. Legal briefs are "the best springboard for putting forth a persuasive oral argument."
---
RES IPSA ONLINE