FACULTY PROFILE:
Joanna Sax
A Rising Talent in Biomedical Policy
HIGHLIGHTS:
Assistant Professor of Law; joined California Western in 2009
J.D. University of Pennsylvania Law School; Ph.D. University of Pennsylvania School of Medicine (Cell and Molecular Biology); B.S. University of Wisconsin (Zoology)
Courses Taught: Contracts I, Trusts & Estates
Profile Page: Joanna Sax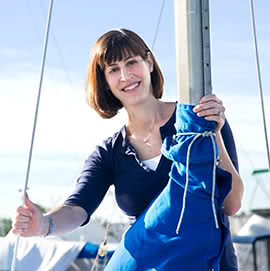 For those who would seek to understand, let alone navigate the complex, often byzantine world of biomedical policy, it would be helpful to enlist the aid of professionals from two completely different disciplines: a highly trained medical scientist and a skilled lawyer.
California Western School of Law is fortunate to have both of those professionals in one person: Assistant Professor Joanna Sax holds a Ph.D. in cell and molecular biology from the University of Pennsylvania, and a J.D. from the same university's law school. Her Ivy-League training, along with her intellectual acuity and inexhaustible drive to learn, has made Sax a rising new talent among those who focus on the myriad issues surrounding biomedical policy. Since Sax joined the faculty in the summer of 2009, she has leveraged her expertise to delve into topics as wide-ranging as conflicts of interest in the scientific community; protecting scientific integrity by analyzing the commercial speech doctrine as applied to product claims by pharmaceutical firms in industry publications; and applying an economic, cost-benefit model to pharmacist conscience cause legislation. Several of her papers on these topics will be published in the coming year.
"It really has been quite an amazing first 18 months," Sax says. "Coming to California Western has been everything I hoped it would be. I love the intellectual freedom where I can devote as much time as I need to just think, which is critical if I'm going to properly analyze - and hopefully have an impact on - some very complicated issues. It's also wonderful to be surrounded by such bright and curious students who are eager to learn. I am also grateful to my fellow faculty members who have been incredibly supportive. I'm really fortunate, because I know I have one of the greatest jobs in the world."
Ironically, if it wasn't for a controversial government biomedical policy decision, Sax might not have even pursued law. Raised in a New York City suburb - her father was a businessman, her mother a fundraiser for non-profits - Sax was on track to become an academic medical scientist. She majored in biology at the University of Wisconsin and was in the middle of her Ph.D. at Penn when the Bush Administration placed a ban on stem cell research.
"Until that moment, I had been in a kind of a protected scientific bubble that I never imagined politics could penetrate," Sax recalls. "I guess I was a little naïve, because it came as a major shock to me that the government could control what scientists can and can't do."
She finished her Ph.D., in 2003, but knew she wanted to jump into the biomedical policy fray, and that a law degree, combined with her scientific credentials, would give her the skills and credibility to make a mark in the field. She also knew she wanted to accomplish that in an academic law setting, so after a year and a half at a San Francisco law firm to gain practical experience, Sax found herself at California Western.
As disciplined and self-motivated as any young professor you'll see, Sax knows exactly what she wants to achieve and is willing to invest the time to learn new tools to reach her ambitious goals. "My research focuses on determining on how we as a society want scientific inquiry to be conducted, and how the law can play a crucial role in creating incentives to advance science or roadblocks to hamper its progress.
"This is where my scientific background is a huge advantage," Sax says. "I know what it means to work overtime in a lab, to come in every day knowing that most of the time your experiments are going to fail, but that given enough time, support, and resources, you will have a chance to discover something important. Most of our policymakers have no idea of the pressure our scientists are under, but I have the background to make them fully aware of the realities."
Looking beyond the complexity of a field in which it's easy to get bogged down, Sax never loses sight of her ultimate - and critically important - goal: using biomedical policy for the public good.
"Creating that positive environment for scientists in which they can be more productive and experience less pressure and conflict of interest pays off in stronger, hopefully groundbreaking science. That ends up being translated to the clinics and hospitals in more effective treatments that improve, if not actually save the lives of patients. Ultimately, I can't think of a more rewarding result of what I do."
---
BOB ROSS • RES IPSA ONLINE