ALUMNI PROFILE:
Irina Axelrod-Angres '99
From Russia, With Law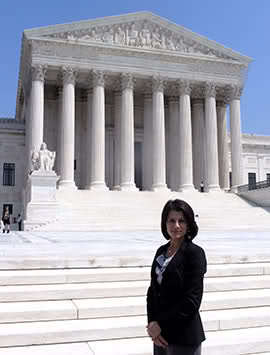 As a young girl in St. Petersburg, Russia, Irina G. Axelrod-Angres '99 dreamed of one day coming to the United States. Axelrod-Angres not only made it to America, she achieved heights even she could not have envisioned. After graduating from California Western, Axelrod, now an American citizen, clerked for two Nevada district court judges before entering private practice with her husband. In 2005, she joined the Nevada Supreme Court as a staff attorney and last year received the high honor of being selected as a United States Supreme Court Fellow.
Res Ipsa: What made you leave Russia?
Axelrod-Angres: I had a love-hate relationship with my native country. There are a lot of great things about Russia, the history and culture, and I had a lot of friends. But being Jewish, my family and I faced a tremendous amount of discrimination. Even though my mother and father were highly educated professionals—both chemical engineers—and all my relatives were doctors and engineers, we were prevented from going to the best schools and kept out of the best jobs. When you add in all the problems Russia has been experiencing since the collapse of the Soviet Union, coming to America with its freedom and opportunity was the best choice for me, and eventually the rest of my family followed.
Res Ipsa: What were your California Western years like?
Axelrod-Angres: I loved it, and one reason was because it was so diverse. I was not used to that in Russia, so I enjoyed meeting people from all walks of life, all ethnicities, ages and income levels with widely varying motivations for going to law school. One of the best students in our class was a woman in her 50s who was starting a second career. I found her example very inspiring. California Western was also a great school for combining a quality legal education with one's passion for public service. Taking Professor Bowermaster's class on domestic violence and observing Mario Conte's battered women clinic were major influences. To this day, I counsel domestic violence victims I come across in my private practice - these are women who have no idea what is being done to them or where to turn - and I just have to help in any way I can.
Res Ipsa: Any other favorite professors?
Axelrod-Angres: I had many excellent professors, and one of the best things about them was that they were really supportive and made themselves available for one-on-one consulting. I really enjoyed Professor Fink because I learned so much about property, which is the core of my private practice. I also benefited from Professor Slotkin's legal writing classes where she introduced me to the idea of the organized, simple, yet elegant style of writing.
Res Ipsa: You wrapped up your year as a Supreme Court Fellow in August. What was the experience like?
Axelrod-Angres: It was amazing. First of all, I was deeply honored to be selected at all. I saw little hope of being picked when I applied, especially since I was competing against graduates of Ivy League schools. I was assigned to the Federal Judicial Center, the education and research agency for the federal courts. Learning about the complexity of the system - there are 94 federal court districts in the country, with 678 judges who hear nearly 350,000 cases a year - really gave me new level of respect for what they are able to accomplish.
Res Ipsa: Did you have any contact with the Justices?
Axelrod-Angres: Just at social functions and presentations. I did not work with them. One of the real highlights of my year was getting to watch the court in session. I was surprised to see that not everyone who argues before the court is outstanding. The justices were mostly very kind and understanding and even tried to help the lawyers out with leading questions. I was absolutely fascinated to see Elena Kagan argue as Solicitor General. She was amazing at arguments. One could not confuse her or lead her astray. She stayed on task, and did it in the most gracious way, with a really dry sense of humor. Kagan had an incredible grasp of whatever subject she was arguing. She was simply the best I had ever seen in court. She stood her ground, refusing to let anyone hijack her agenda, as often happens with the tough questioning that occurs at the Supreme Court oral arguments. I was able to witness some memorable exchanges between Kagan and the Justices. I am very excited about Ms. Kagan's confirmation as an Associate Justice.
Res Ipsa: What's next for you?
Axelrod-Angres: I have rejoined my husband in our private practice in the Reno-Tahoe area, getting back to some of my outdoor hobbies, like extreme hiking and skiing, and most importantly spending more time with our 10-year-old twin sons, who are spending a lot of their time building some amazingly complex robots.
---
BOB ROSS • RES IPSA ONLINE