GIVING BACK:
Securing the Future of California Western
As a named partner in Oceanside's largest and oldest law firm, with a practice focusing on Trusts and Estates, longtime California Western trustee and chair emeritus Kenneth L. Greenman '71 is an astute estate planner and businessman who knows a solid investment opportunity when he sees one. That's why he and his wife, Patricia, decided to remember California Western in their estate plan.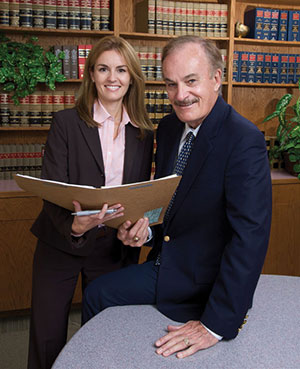 "As attorneys and officers of the court we have committed to protect and defend our legal system," Greenman says. "What better way to do this than by supporting the outstanding legal education California Western provides to our future colleagues. The generosity of those who have gone before us helped make our legal education possible and I hope that our generosity will do the same for those who follow us."
Greenman values the school's mission of educating lawyers ready for the practice of law and he understands that by providing for California Western in his estate plans, he is helping to secure the future of the law school that was instrumental in his success and continues to enhance the quality of the legal profession.
We hope you will consider becoming a member of the Juris Legatum Society—a group of generous supporters like Ken who have remembered the law school in their estate plans—in one of the following ways:
Include a bequest to California Western in your will or trust
Name California Western as a beneficiary of your IRA or other qualified retirement plan
Donate a fully paid life insurance policy
Purchase a life insurance policy with California Western named as owner and beneficiary
Establish a charitable remainder trust
For more information, please contact Bill Healy, Director of Development, at 619-515-1547 or whealy@cwsl.edu.

// RES IPSA ONLINE