FACULTY SERVICE:
Reflecting on 10 Years of Marriage Equality
In addition to serving as Associate Dean for Research and Faculty Development, Professor Barbara J. Cox is one of the nation's leading scholars on marriage equality and sexual orientation and the law.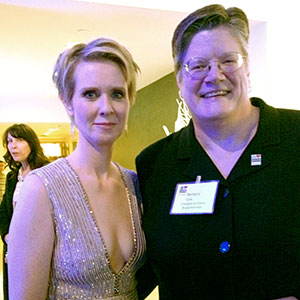 Cox has served as chair or co-chair of the board of directors of the national marriage equality organization Freedom to Marry since its inception in 2003.
Freedom to Marry recently celebrated its 10th anniversary, coinciding with the 10th anniversary of the first recognition of same-sex marriage by a state (Massachusetts), in a ceremony held at the Signature Theater in New York City.
"When Freedom to Marry started, no U.S. state permitted same-sex couples to marry," says Cox, who continues to author book chapters and law review articles on issues such as interstate recognition of same-sex marriage and the way federal law treats couples in same-sex marriages and civil unions. "Today, 17 states and the District of Columbia allow same-sex couples to marry in those states and the federal government recognizes the marriages of all married same-sex couples, regardless of whether they can marry in their home state."
Event emcee Cynthia Nixon, best known for her role on HBO's "Sex and the City," reflected on the pride she felt marrying her then-girlfriend in 2012. Nixon noted that 40 percent of Americans live in a state that recognizes same-sex marriage, and that a majority of Americans now favor marriage equality.
"I do this work because it is vitally important that the fundamental right to marry apply equally to all couples who seek to marry, not just those consisting of different-sex couples," says Cox, who helped draft the nation's third domestic partnership ordinance.
"Seeking legal rights for these couples—including marriage—has transformed the lives of all LGBTQ individuals in the U.S. and helped fulfill our constitutional promise that all people must be treated equally."
// RES IPSA ONLINE