ALUMNI PROFILE:
Ronald Bienstock '81
"My Life Is a Dream Gig"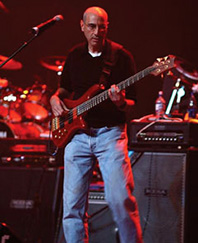 Ronald Bienstock '81
It would be difficult to find a happier California Western alumnus than Ron Bienstock. For more than 25 years he's been able to pursue his twin passions—law and music. In his day job at Bienstock & Michael, he's one of the industry's most respected entertainment law and IP attorneys In his spare time, he's a talented bass player whose rock group, "The Suits," has appeared on Late Night with Conan O'Brien.
In 2009, Bienstock won the biggest case of his life when he successfully represented 18 guitar manufacturers in stopping Fender Musical Instrument Corporation from trademarking three of its most popular guitar shapes more than a half century after it had created them.
Res Ipsa: With your victory over Fender, you were called everything from "The Man Who Saved the Guitar" to "The Real Guitar Hero."
Bienstock: That's funny because it's a little over the top. But there's no question the case was gigantic and not just for guitar makers and musicians. I really believe the decision by the U.S. Trademark Trial and Appeal Board—which we battled six long and contentious years to achieve—turns trademark law on its head. It will set a precedent that will establish for all kinds of product manufacturers what is generic and what can be trademarked.
Res Ipsa: What was the key issue in the Fender case?
Bienstock: Back in 2003, Fender very quietly applied to trademark the shapes of its Stratocaster, Telecaster, and Precision electric guitar and basses. When the other manufacturers found out about it, my firm was hired to fight that application, which if approved, would have devastated the global guitar industry. We argued that because Fender had never trademarked the shapes since introducing them in the 1950s, and that because thousands upon thousands of guitars in those shapes had been manufactured by other guitar makers around the world, the shapes had become generic and could not be trademarked. We literally said, "the horse was out of the barn." Despite a high-powered intellectual property law firm and all the money the biggest guitar maker in the world could throw at the case, the government agreed with our very hardworking team, and we were, to say the least, thrilled. Even more so because there's no possibility of appeal.
Res Ipsa: What did the decision mean for the guitar industry, musicians, and your firm?
Bienstock: In addition to ensuring the survival of guitar manufacturers' businesses and those jobs, it means musicians everywhere can continue to choose who they buy their guitars from and at competitive prices. I don't even want to think about what guitar buying would have been like if Fender had grabbed a monopoly. The impact on our firm has been really positive with all the media and industry attention we've attracted. We were already well known in the business but I think we've gained added respect, and the publicity and the higher profile can't be anything but beneficial for our firm.
Res Ipsa: How did you go from a guitar-loving kid who grew up in the Bronx and New Jersey to creating a successful entertainment and intellectual property law firm that employs 18 and has offices in New York City and Hackensack, N.J.?
Bienstock: It began with my love of music. I actually started playing for a living when I was 16. I played all the way through high school and college. I could have made music my only career but I chose not to. I didn't want to be in my 40s worrying about where my next job was coming from, and I didn't want to be on the road that much because it's exhausting. At that time, opportunities were a lot more limited and I would have ended up a journeyman studio musician and tour sideman. I also really wanted the challenge of doing something else in addition to playing an instrument. I felt music could be a little monochromatic. Luckily, the brother of a friend of mine was a well-known entertainment attorney representing artists and I got a glimpse of that world and thought it would be the perfect job for me.
Res Ipsa: How did you end up at California Western?
Bienstock: I applied to three law schools. Southwestern in L.A because it had an entertainment law program, California Western because it had international law and I thought I might like that, and Harvard, which I'm sure caused a chuckle. I never heard from them. I wasn't impressed with Southwestern when I visited so I chose California Western. The only problem was that I had touring and studio commitments that would take me 10 days past the start of school in September. I had a real heart-to-heart with Dean Castetter and explained that playing music was how I was going to pay my way through school and he was kind enough to let me start late.
Res Ipsa: What was your California Western experience like?
Bienstock: You can't have more of a culture shock than being on the road playing in a rock band and then coming to a full stop and going to law school. It was tough, to say the least. I remember it being almost physically painful making the right brain-left brain- transition from free-flowing world of music to the analytical world of academia. But I stuck with it and had a great time. My class was made up of a group of smart and committed people of all ages from all walks of life and it was wonderful.
I also had some fantastic professors, including Bill Lynch, who my class really bonded with. Professor Lynch had come to the school the same time we did and we sort of adopted each other. I also had a very special relationship with Professor John DeBarr. I became his teaching assistant and I owe him a great debt for the many ways he was instrumental in helping me during law school. And I owe the school itself a lot for preparing me for the law practice I wanted to build.
Res Ipsa: What types of services do you provide your clients?
Bienstock: The intellectual property side of our practice helps domestic and international companies maximize and protect their intellectual property rights, whether it's trademarks, patents, copyrights, proprietary technology, or licensing. On the entertainment side, where we've worked with hundreds of artists like Billy Joel, Simple Plan, Twisted Sister, Dream Theater, and the Goo Goo Dolls. We help musicians protect themselves by organizing their business dealings, including negotiating record deals, generating licensing and publishing opportunities, or drafting agreements for publishing royalties from record labels, publishing companies, and performing rights organizations.
Res Ipsa: Sounds like you'll never be bored.
Bienstock: Not a chance. I have to be one of the luckiest guys in the world. I've got great wife and two wonderful teenage daughters, I truly love coming to work every day, and I'm never far from my guitar. My life is really a dream gig.
This article originally appeared in the Fall 2009 issue of Res Ipsa.
BOB ROSS // RES IPSA ONLINE