ENTERTAINMENT LAW:

A Look Behind the Curtain


When

Star Wars

creator George Lucas was negotiating his production contract with Fox in 1975, he knew the value of a good entertainment lawyer. With visionary determination, his legal counsel contracted for ownership of licensing and merchandising rights, in lieu of a director's salary. As a result of that negotiation, Lucas became one of the American film industry's most financially successful filmmakers. Entertainment and sports attorneys are closely linked to actors, artists, and sports figures, as well as the production and distribution of audiovisual works, merchandise, and games. While the notion of representing celebrities, athletes, authors, entertainers, and their employers seems glamorous, the practice of entertainment law is not all glamour and certainly not all about celebrities.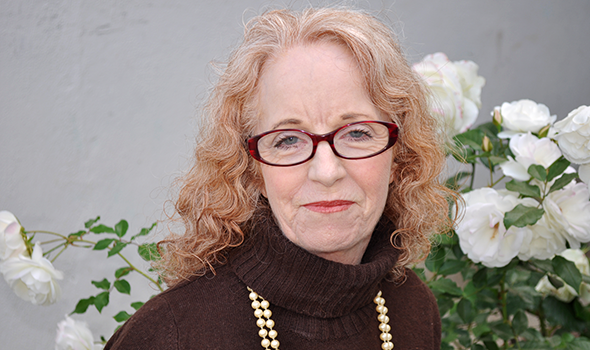 Chris Ann Maxwell '75, Senior Vice President of Legal Affairs,
Fox Searchlight Pictures
The industry beckons those with the stamina to persevere and the insight to become skilled in a multitude of areas of the law including intellectual property, contracts, business development, employment issues, securities, taxation, immigration, and litigation.
Behind the Spotlight
Chris Ann Maxwell '75, senior vice president of legal affairs, Fox Searchlight Pictures, has stamina in spades as well as a good sense of humor about her entrée into entertainment law.
"I come from a show business family and pretty much didn't want anything to do with the industry," she says. "During my second year at California Western, I interned at the U.S. Attorney's office in San Diego. From that moment on, I wanted to be a federal prosecutor, despite the fact that the U.S. Attorney hired only experienced litigators."
Trying to gain experience, she applied for a job with the Los Angeles County District Attorney's Office―during one of the city's many hiring freezes. Maxwell's father wasn't pleased with her career aspirations.
"My parents made it clear that I was going to have to find a way to support myself in the interim and my father set up a meeting for me with the Screen Actor's Guild's outside law firm," she says. "I went to the interview kicking and screaming and got the job anyway. From there, I became interested in entertainment law, and eventually I was offered a job at Lorimar TV."
Today Maxwell is responsible for supervising the work of outside counsel engaged in the various countries where the company produces films in the local language. She makes sure local productions comply with general Fox policies, and negotiates and drafts contracts involving film financing and acquisition, as well as contracts relating to development and production of theatrical motion pictures.
Maxwell contends that her work does not reflect the allure usually associated with working in Hollywood.
"Be ready to work very hard―whether you're on the studio side or the talent side, you're pretty much expected to be available to work around the clock," she says. "You also have to have a thick skin, because there are a lot of very big egos in this industry and sometimes the lawyers or agents with whom you have direct contact have egos bigger than those of their celebrity clients."
Despite the hours of work and demanding clients, there are plenty of reasons why Maxwell is satisfied with her career.
"I love getting calls from my creative or production executives, or from the producer on the set, who are in a panic over a problem they perceive as huge. I can calmly and quickly analyze the situation and solve the problem for them. That gives me a great deal of satisfaction," she says. "I also feel really proud when a movie I've worked on gets recognized by the creative community―such as Juno, Little Miss Sunshine, and of course, Slumdog Millionaire."
Problem Solving Is Key
The practice of entertainment law is often a study in eclecticism; it is a career that requires foresight, interdisciplinary skill, and the ability to relate to people as well as their problems. "I see plenty of lawyers in this business who want to win arguments, rather than solve problems," says Mark D. Friedlander '01, director of New Media for the Screen Actors Guild. "If you want to be a success in this business, you have to be a problem solver, not an argument winner."
Friedlander oversees the policies, contracting procedures, contract interpretation, and business development in the area of new media for the labor union, which represents more than 160,000 actors, broadcasters, recording artists, and other media professionals. He also provides strategic guidance to senior staff on all issues relating to emerging technology and associated business trends in the entertainment, broadcasting, and advertising industries.
"I get to be part of the team that represents the union in massive collective bargaining for hundreds of millions of dollars a year, which is pretty amazing," he says. "My part of the job is in on the 'less traveled path,' so to speak, because I work in the areas of new media technology pertaining to entertainment."
New media involves interactive forms of communication that use the internet, including podcasts, RSS feeds, social networks, text messaging, blogs, wikis, and virtual worlds. New media makes it possible for anyone to create, modify, and share content with others using relatively simple tools that are often free or inexpensive. It's a revolution in the delivery of entertainment that offers opportunities for new distribution channels and new revenue streams, and which has fascinated Friedlander since law school.
"I was in law school during a very interesting time when Napster, the online music peer-to-peer file sharing service, was on the scene," he says. "Watching how that service changed the music industry led me to believe that technology was going to make a big impact on entertainment."
While it may seem that Friedlander's focus is on the technology of the business, he is quick to point out that working as a lawyer in the entertainment industry requires plenty of people skills.
"I remember when I graduated from law school and was focused on getting work in the entertainment industry," he says. "I learned pretty quickly that the way to get into this club is through relationships. And I mean honest, personal relationships. If I had one thing to do over again, I would have spent more time during law school talking to people in the industry, asking questions and engaging with them. It would have made my life easier."
Making Internships Work for You
Internships provide the best opportunity for law students to not only begin their careers in the entertainment business, but to make the connections that effectively build a career.
"The entertainment business is a difficult bridge to cross unless you are well connected," says Neil D. Strum '83, executive vice president and partner of Metan Development Group. "I know that one of the best things to happen to me while I was in school was my internship at HBO in Los Angeles."
That experience not only helped Strum launch his career, but resulted in a 25-year habit of creating internships for other students.
"By offering internships I not only gave back, but I was able to find talented young lawyers that I could help mold. Today, I'm proud that many of the executives I work with were once interns in programs I helped establish."
Strum oversees operations of Metan, an international television and media company, and is a veteran entertainment deal maker. He served as senior vice president at William Morris Agency, where he developed new revenue and business models, and as executive vice president for Universal Television, running business and legal affairs while developing new templates for multi-platform exploitation of television series. He is concise when describing what he looks for in an intern.
"I want someone who is interested in having my job someday," he says. "By that I mean that I want someone who not only has the skill and the education, but who is willing to listen and to do what needs to be done in the role of an assistant. In return, I can provide the experience and exposure and the opportunity to push their sphere of influence."
What gives Strum joy is seeing interns who make the most of the opportunities provided in an internship or an entry-level position.
"People appreciate drive in any business, and they appreciate people who are interested in learning and establishing relationships, without being pushy," he says. "Some of the most powerful people in this business started in an entry-level position or internship."
Preparing Entertainment Lawyers for the Real World
California Western is one of about 50 law schools in the nation that provides courses with an entertainment and sports law emphasis. Its close proximity to the entertainment capital of the world, Los Angeles, as well as the array of courses pertaining to entertainment and sports law offered, make it a natural choice for those who are determined to pursue entertainment or sports law.
"Training lawyers for the real world problems they will face in practice is strongly emphasized on campus," says 3L Connor Flahive, past president of the Entertainment and Sports Law Society at California Western. "One of the best examples is Professor Jeffrey S. Robin's Entertainment Law Seminar."
Robin, former senior vice president and worldwide head of business affairs at William Morris Agency, leverages his experience in contract design and negotiation to prepare students for what they might encounter in actual negotiations. He provides students with real contract templates from major motion picture studios, walks the class through how the negotiation process works, and explains important industry-standard clauses and jargon that is a foreign language to non-experts. Then he assigns the students a hypothetical client deal to contract.
"This is great experience because it allows students to work as if they are actually part of a major studio's legal team," says Flahive. "Plus, we get to hear some great anecdotes from Professor Robin's real-life dealings with Hollywood's top stars."
Taking that course has been instrumental in Flahive's career development in another way. "Explaining what we did in that class during an interview helped me land the internship I now have at an entertainment law firm in L.A.," he says.
Flahive is determined to make his mark in entertainment law, and feels confident partly because of his foundation in multiple aspects of the practice of law.
"Sports and entertainment attorneys are attorneys first, and specialists second," says Professor Jan Stiglitz. "I always advise students to take a broad range of courses that teach all of the typical skills that an attorney in any field will need, such as negotiation, client counseling, and legal writing."
He advises students to think broadly about the industry and find a career that is personally and professionally rewarding.
"The best way to be an effective sports or entertainment lawyer is to be an effective labor lawyer, corporate lawyer, or tax lawyer, and then find your niche," he says.
// RES IPSA ONLINE