FIRST FIVE YEARS:
Resources for New Attorneys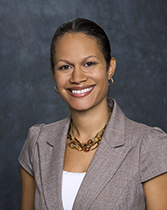 Asha Wilbun '05,
Graduate Career Advisor
Career Services: Our Office is Your Office
Career Services works diligently to provide job search assistance and career advice for California Western students and alumni, helping facilitate a seamless transition from law school into practice.
The office is a conduit to law firms, public interest organizations, and government agencies for students seeking summer associate, law clerk, and attorney positions. While many graduates choose to stay in Southern California, the office receives a broad range of job listings from firms and agencies throughout the country - many of which are provided by California Western's impressive network of alumni.
Career Services offers a wide variety of resources and popular programs designed to help you identify and achieve your career goals:
Asha Wilbun '05
Graduate Career Advisor
Asha works specifically with third year students and recent graduates to help target employers and secure post-graduate positions.
After graduating from California Western, Asha practiced dependency law in Los Angeles before starting her career as a criminal prosecutor at the San Diego City Attorney's Office. During her four-year career at the City Attorney's Office, Asha developed strong ties in the legal community. Asha aids students in developing their own networking proficiency and provides tools and strategies needed to make informed active decisions about employment. She has the experience and knowledge to help students define their career goals and equip them with the skills and information necessary for a successful employment search.
Job Listings Posted Online


Legal employers from San Diego and around the country frequently notify our office of current job openings for student law clerks, as well as entry-level and experienced attorneys. These listings are immediately posted online.



On-Campus Interviews


Employers come to California Western to interview students on campus for student law clerk and entry-level positions.



Individual Career Advising


Meetings with our advisors are personalized for particular areas of interest, designed to identify specific goals and examine how to best market your skills and attributes to potential employers - resulting in a job-search strategy that is individually tailored.



Job-Search Strategy Seminars and Workshops


We offer a wide variety of seminars and workshops on legal résumé and cover letter writing, interviewing, career planning, and networking - designed to provide you with tools and expertise in order to stand out to legal employers in a pool of applicants.



Mock Legal Job Interviews


During mock interviews, you are able to hone your interviewing skills with a member of our staff or a practicing attorney, and receive feedback and suggestions for improvement.



Utilize our Facilities


Students and alumni are always welcome to utilize Career Services' equipment and supplies, as a successful job search requires access to a quality printer, copier, scanner, fax machine, and the internet. We also sell high quality résumé paper and matching envelopes, with proceeds donated to the California Western Student Public Interest Law Foundation to fund summer clerkship grants.

IAN WRIGHT // RES IPSA ONLINE