DONOR PROFILE:
Abbe S. Wolfsheimer '72
Former San Diego City Councilwoman Gives Back to California Western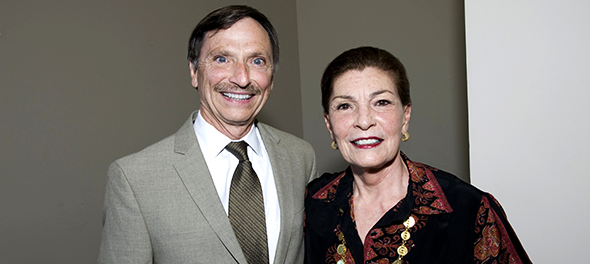 Dean Emeritus Smith with donor Abbe S. Wolfsheimer '72
A San Diegan who describes her eight-year stint on the City Council as a "third career," Abbe S. Wolfsheimer '72 understands the importance of higher education in facilitating professional advancement.
Wolfsheimer recently endowed to California Western School of Law The Second Career Scholarship, designed particularly for students who are transitioning into a legal career.
Res Ipsa: What inspires you to give to California Western?
Wolfsheimer: I consider my time at California Western to be the most valuable component of my entire education. While I was there, I relearned to read, write, and analyze everything that I saw and heard. California Western equipped me with the conceptual and practical knowledge that I needed to launch my second and subsequent careers. Of course I am inclined to give back to the institution that provided me with a versatility that I wouldn't have received otherwise.
Res Ipsa: What do you especially remember about your time at California Western?
Wolfsheimer: The quality of all of the professors was top-notch. I specifically remember George Gafford, who prepared us for corporate law with a very hands-on approach. In addition to reading and discussing cases, every week we explored practical aspects of the law by completing projects and creating mock corporations.
Res Ipsa: What advice would you offer today's students and graduates?
Wolfsheimer: I think it's wise to take advantage of the unique learning environment offered at California Western, by absorbing and utilizing this legal knowledge as part of everyday life—rather than rushing through the material solely to take the Bar and begin the practice of law. With the number and quality of clinical programs that the law school now has, I would advise that students participate in as many as possible. If these were available when I was a student, I would have jumped at the opportunity!
The Department of Development & Alumni Relations would like to thank Abbe Woflsheimer for her commitment to the law school and the students we serve.
IAN WRIGHT // RES IPSA ONLINE