FACULTY PROFILE:
Jessica Fink
Preparing Lawyers for the Real World
HIGHLIGHTS:
Associate Professor; joined California Western in 2006
J.D., Harvard Law School
B.A., University of Michigan (Political Science with Highest Distinction)
Courses Taught: Remedies, Employment Law, Employment Discrimination and Constitutional Law I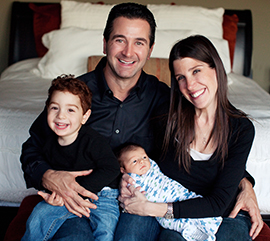 As much satisfaction as Associate Professor Jessica Fink receives in watching her students acquire the fundamentals of law and ultimately passing the bar, she derives even more pleasure in seeing how well they're able to apply what they learned once they enter the legal profession.
That is because Fink knows exactly how challenging it is to succeed in the private practice, having worked as a top labor and employment lawyer in Chicago after receiving her law degree from Harvard. As a result, her teaching not only equips students with the academic rigor they will need as lawyers, but helps them develop practical abilities to connect their legal training with real-world situations - a skill she believes is critical to them becoming good attorneys.
"My years in private practice inform how I teach," Fink says. "I want students to learn the black letter law…, but that's just a foundation. In the real world, future clients aren't going to walk into their office and hand them a standard case that fits the law perfectly.
More likely they'll be faced with a disorganized set of facts full of emotion and subjective interpretations and half-truths. It's a lawyer's job to sort through it all and not only figure out the pertinent facts, but also what areas of the law apply. If they can't filter all that information and devise a strategy to assist their client, then what they learned in class won't be of much help."
Having Fink in the classroom at all is a bit of good fortune for California Western, for though she hoped one day to teach law, she thought it would only be after spending decades in private practice. Instead, after five years at the law firm, Fink moved to San Diego to join her future husband and discovered an opportunity to join California Western as a teaching fellow.
"When I got here I first thought about working at another law firm, but then I thought about teaching and I said to myself, 'what if someday is now?' It was a perfect window of opportunity, and California Western helped my dream come true a lot earlier than I ever thought it would."
After completing the teaching fellows program, Fink joined the faculty as an assistant professor, advancing to associate professor two years ago. In that short time, Fink's extensive professional experience, her incisive legal scholarship, and her passion for sharing her knowledge with students have made her one of the most effective and enthusiastic young members on the faculty.
Some of her success is due to her ability to create a classroom environment conducive to communication and engagement.
"I think that it is unfortunate that, in many situations, law students feel too intimidated by their professors to participate fully in the classroom experience," Fink says. "California Western is unique because it succeeds in breaking down those barriers and encouraging students to fully engage with faculty. It's a great dynamic, because when students feel comfortable in a classroom, they become more involved and contribute so much more, which enhances their learning. In addition, being able to communicate one's knowledge about the law is an essential skill that students will need in the future, whether they are communicating with clients, judges, or their partners and colleagues."
Fink also appreciates that California Western provides her the opportunity to pursue her profession and still maintain a personal life.
"It's a challenge to balance everything, but I think it's particularly important that, as a woman, I keep doing what I'm doing," she says. "I think it's important that all our students - not just the female students - see a woman at the front of a classroom providing a female perspective. It's important symbolically for them to know this is a profession in which women can have a flourishing career and a satisfying personal life. California Western has been an amazing place for that."
So even though Fink's life is a true whirlwind these days, with a full-time job and a busy family life with husband Robert and their 3-year-old and 6-month-old sons, she couldn't be happier.
"Practicing law was immensely satisfying, but becoming a teacher was the greatest decision I've ever made, and it's something I want to do for the rest of my life," Fink says. "For me, the opportunity to have an impact on students and their future lives and careers, however small, is beyond exciting."
BOB ROSS // RES IPSA ONLINE