FACULTY PROFILE:
Janet Bowermaster
A Passionate Voice for Families
HIGHLIGHTS:
Professor of Law; joined California Western in 1988
J.D., M.S. University of Illinois [cum laude]
B.A. Huntington College
Courses Taught: Torts I & II, Children and the Law, Domestic Violence Seminar, Family Law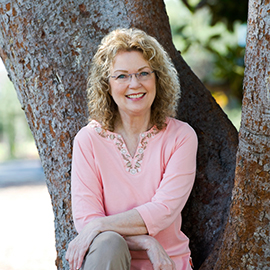 When a highly effective educator is engaged in important work over a long period, the achievements can be so numerous and varied, it's sometimes difficult to gain a full appreciation for what has been accomplished.
Such is the case with Professor Janet Bowermaster. Only by looking back through the lens of time does it become clear that Bowermaster's distinguished 25-year career at California Western has been among the most productive in school history.
The evidence: As an outstanding teacher and tireless mentor, Bowermaster influences the lives of countless students, helping them not only boost their academic achievement while in school, but launch successful careers as lawyers. In 2002, when the school needed a strong associate dean for academic affairs, she agreed to leave the classroom for five years to tackle one of the most challenging jobs on campus. Her many contributions included improving the bar review and adjunct faculty programs, and overhauling the faculty support department.
If that wasn't enough, Bowermaster's passion for scholarship and advocacy has made her a leading authority nationally on family law and domestic violence. So much so, legislation she helped draft has changed laws across the country, among the most important is one that secured the right of custodial parents to move away.
Moving away, ironically, was how Bowermaster came to California Western in the first place, a path she now believes was destined, but which hardly seemed so as she grew up in Ottumwa, Iowa, the eighth of 11 children.
Thinking she might like to teach, Bowermaster majored in education at the University of Iowa. In her sophomore year, she married and moved to Alabama where her husband was stationed with the Air Force. She realized she loved teaching and wanted to further her education, so when the couple moved to Illinois so her husband could pursue a Ph.D., Bowermaster entered masters-Ph.D., program in educational psychology. But when their first child came along, she decided she wanted to be a mom and left school. After their second child was born, she began thinking about returning to school.
"Talk about destiny. I was at a party and a woman mentioned she had children but had just finished law school and had I ever considered doing the same thing," Bowermaster recalls. "I hadn't, but I decided to take the LSAT almost on a whim, and because I was so relaxed, I knocked it out of the park, scoring in the 99th percentile. Within a week I was accepted into law school at the University of Illinois."
Bowermaster ended up moving two more times with her husband, first to Chicago area, where she was hired at a private law firm, and then back to the University of Illinois where she taught legal skills, worked on an LL.M., and parted ways with her husband. She was finally ready for a new life, this time on her terms.
"I received an offer from California Western, and from the moment I arrived on campus I felt so much freedom, it was like being shot out of a cannon. I knew I was supposed to be here, almost as if I had been brought here for a purpose."
That purpose may well have been to make a difference in the field of family law, including preserving the rights of women with children.
"I love working in this area because it's fascinating, but also incredibly challenging. We don't even realize how much family issues are such basic part of the fabric of our existence in this country. The problem is that even though much progress has been made over the years - and I'm really proud to have made a few contributions - the sad truth is that the struggle for women to hold onto that never ends."
That's why, even with so many years in the trenches, Bowermaster has no plans to give up the battle.
"We have to keep fighting because there's so much effort required just to keep things from sliding back," Bowermaster says. "I do believe if we keep raising awareness, keep advocating, and remain vigilant, we can protect women and their children and preserve the opportunities and rights they're entitled to. I feel so fortunate to have a wonderful law school like California Western as my base for waging that effort."
BOB ROSS // RES IPSA ONLINE