WEB EXCLUSIVE:
In the Winner's Circle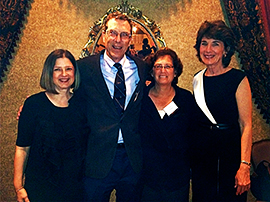 From left to right: Professor Floralynn Einesman, Harold and Eileen Brown, and Professor Linda Morton, at the Center for Civic Mediation awards event
California Western congratulates these faculty and staff members and programs recognized with a number of recent awards. These awards honor the many contributions to the law and our community from members of the California Western community.
California Western named to President Obama's Higher Education Community Service Honor Roll with Distinction for the third consecutive year, recognizing the California Innocence Project, Community Law Projects, Advanced Mediation, Street Law, Pro Bono Program, and Clinical Internship Program.
Advanced Mediation Project received the Louis M. Brown Conflict Prevention Award from the Los Angeles-based Center for Civic Mediation, at an April event which also highlighted the conflict resolution work of the National Football League.
Pam Duffy named "CFO of the Year" for Education by the San Diego Business Journal this past March, in honor of her strong financial stewardship and planning.
Dean Smith received the Bernard E. Witkin Award from the Law Library Justice Foundation and the San Diego County Bar Association Service to the Legal Profession Award from the San Diego County Bar Association at their annual Law Week event.
The awards demonstrate the esteem with which California Western people and programs are held in the legal and business communities. To share news of an award you've received, contact Pam Hardy.
// RES IPSA ONLINE