ALUMNI PROFILE:
Duane Fiedler '78
Pursuing Best Outcomes for Clients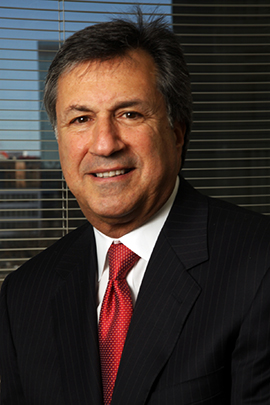 Duane Fiedler '78
When Duane Fiedler was looking for his first job as an attorney, he knew that he wanted to be a litigator, spending most of his time in court rather than sitting behind a desk. What began as "just" a first litigation job, however, grew into a distinguished career as one of the New York area's prominent attorneys specializing in medical malpractice litigation. As managing partner of his firm, Fiedler specializes in fighting for the rights of victims of medical negligence and helping them obtain fair compensation.
Fiedler was selected by his peers as one of the Best Lawyers in America for 2011 and by New York Magazine as one of New York's Super Lawyers. He was chosen as one of the Top 100 Trial Lawyers by the American Association of Trial Lawyers and included in Best Trial Lawyers in Westchester. He is also a member of the Million Dollar Advocates Forum, and his firm, The Law Offices of Duane M. Fiedler in White Plains, N.Y., earned a first-tier ranking in the Best Law Firms edition of U.S. News & World Report.
Res Ipsa: Why do you have such a strong interest in medical malpractice work?
Fiedler: The medical malpractice work was the litigation job I got. I was surprised I took it because I was never good in science, but I started loving the medicine, which constitutes the bulk of what I do.
Res Ipsa: What brings you the most joy on the job?
Fiedler: I deal with people who have suffered some fairly catastrophic, life-altering injuries. To help them receive appropriate compensation and improve the quality of their life is very satisfying.
Res Ipsa: How do you use the law to reach the best possible outcomes for your clients?
Fiedler: After thorough investigation, I accept only the cases that nationally respected, board-certified experts say have merit. Then I bring a sense of urgency to every case I handle, leading to an expeditious resolution.
Res Ipsa: What was one of your most interesting cases?
Fiedler: When I went up against one of New York's most dangerous doctors, an orthopedist who had been sued by many patients before but had never lost. In this case, the patient suffered a permanent limp as a result of failure to diagnose and treat an intraoperative femur fracture caused during hip replacement surgery. I won, and my client was awarded a record $3.75 million by the jury.
Res Ipsa: What were your California Western School of Law years like?
Fiedler: Initially, it was culture shock coming from the East Coast, but once I settled in it was a fantastic experience. I loved the lifestyle, the pace, and the ability to play tennis all year round. And, there are a great bunch of people at California Western.
Res Ipsa: Did any particular California Western professor or experience have a major influence on you?
Fiedler: Jim Leahy for constitutional law was terrific. Judge Barbara Gamer for criminal law was excellent. Then, in my third year of law school, I transferred from California Western to New York University. My law education at California Western was equal to or better than that one year at New York University. What that experience taught me was never to underestimate an adversary.
Res Ipsa: What advice would you give for students thinking of pursuing a law career?
Fiedler: Whether you want to pursue a law career or not, law school is an amazing experience because it teaches you to think in a unique way that is very valuable in whatever endeavor you pursue, law or otherwise. It teaches you to identify issues with precision and resolve them in a very methodical and analytical way.
Res Ipsa: I understand you are active in the community, coaching youth basketball in the Bronx. How and why did you become involved in that community service and how has it influenced your perspective?
Fiedler: This is a long story and one I'm very, very proud of. Six years ago, I went to a Minutemen Athletic Club tryout with my twins, Evan and Ross, and three of their Scarsdale friends. We observed a young guy who was mentoring five kids from the playground where they lived in the Bronx. They were exceptional players. I persuaded him to combine his five with my five. So we pulled his five and my five out of the tryout and combined them as one team. That year, our team went 35 and 2, and won every tournament we participated in.
The big bonus is that my four sons forged incredibly close relationships with these kids from the Bronx, which continue today. In the process of developing those relationships, they truly learned there's another side to how people live and exist. My kids helped them out a lot. But more than the Bronx kids learning from my kids, my kids became very compassionate and sensitive, and developed a deep understanding of their obligation to help those less fortunate.
Because of that experience, even though my kids have outgrown their need for my coaching, I still do this every year in the Bronx. I pay for the players' participation and mentor them throughout the season. They come to the house for meals and to hang out. Even though the Minutemen is a spring league, we participate in a fall league and summer tournaments.
Since I started this, some of the players I've coached now play Division 1 college basketball - for example, Marquis Barnett for Quinnipiac University in New Hamden, Conn., played on that first team our first year. Thaddeus Hall, the top player in the Public Schools Athletic League is expected to go Division 1 next year.
This is one of the more valuable things I've been able to do for my kids in their lifetime, and it's the most fun thing I do, besides the law.
BOB ROSS // RES IPSA ONLINE