WEB EXCLUSIVE:
Alumni-Faculty Collaboration Enriches
Law School Experience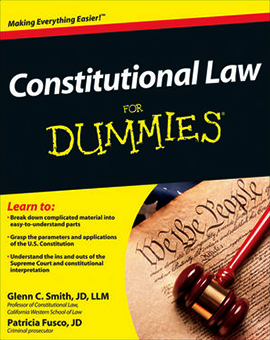 The collaboration of Professor Glenn Smith and alumna Patricia M. Fusco '98 is but one example of ways in which alumni and faculty work together
When she learned of a publishing opportunity, Patricia M. Fusco '98 called her former law professor with a proposal to co-author a book. Professor Glenn C. Smith was intrigued and some 14 months later "Constitutional Law for Dummies" was released in December.
"I thought he would be great as he has the perfect personality to make it humorous and informative," said Fusco, a prosecutor in the Special Crimes Unit of the California Attorney General's Office. The book project is a recent example of the collaboration between California Western faculty and alumni that reaps big benefits not only for the individuals involved, but for the law school and its current students.
"(Collaboration) allows alumni to give back in a meaningful way," Associate Dean William Aceves said. "For faculty, it shows that our job as teachers doesn't end when a student graduates. We have other opportunities to mentor them and we, in turn, learn from that."
At California Western, the first executive director of the law school's pro bono Community Law Project, which provides legal advice to low-income and indigent community members, was a graduate. The program's operations officer earned a MCL at the school and 12 current volunteers are alumni.
In the Advanced Mediation Program, Professor Linda Morton and Professor Floralynn Einesman work with graduates, who help teach the class and supervise law students' mediations at Kearny Mesa Juvenile Detention Facility and at Small Claims Court in Vista.
"Alumni bring a sense of reality to the law school so students can see, in fact, that there is a light at the end of the tunnel, and it's a bright one," Morton said. "Our alums educate me as a law professor. Because they're out practicing in the field, they offer insight that is enormously helpful in the classroom."
Alidad G. Vakili '94 has collaborated with professors for 14 years to supervise law students in the Internship Program, where third-year students earn academic credit for legal work in private and public sectors. Interns work on projects at Vakili's law firm, K & L Gates LLP, as he said, "to expose them to day-to-day operations and the stresses that attorneys go through."
Aceves pointed out that too many law schools seem to focus on the theory of law. "The vision of this school is to give our students a practice-oriented education," he said, and alumni-faculty collaborations do just that.
// RES IPSA ONLINE