STORY:
Addressing the Serious Problem of Underinsurance
By Professor Kenneth Klein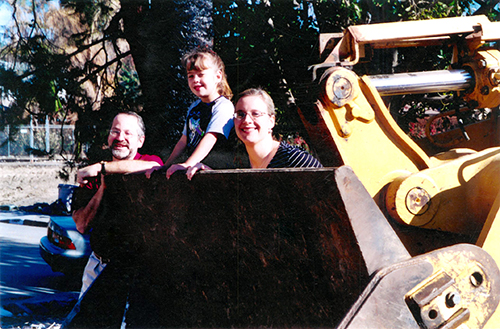 Professor Kenneth Klein with wife, Professor Lisa Black, and their daughter, rebuilding their home after the 2003 Cedar Fire
I live in Scripps Ranch, a San Diego neighborhood that lost 312 homes (including mine) to wildfire in October of 2003. What was astonishing in my neighborhood is that every homeowner had fire insurance, every homeowner thought they had full insurance, and it turned out that 80 percent of my neighbors actually had less - usually far less - insurance coverage than it cost to rebuild their house.
Rampant underinsurance is not an idiosyncratic consequence of mass natural disaster. The valuation experts serving the insurance industry estimate that well over half of homes in the United States are underinsured by on average over 20 percent of the value of the home. In Scripps Ranch, the average amount of underinsurance was over $100,000.
While my home was not underinsured, learning of the problem got me thinking about how underinsurance happens so pervasively and whether there was something to be done about it. After all, the amount of an insurance premium is driven by the amount of coverage, so one would think an insurance company would want to sell full insurance coverage.
There is some complexity to how insurance is bought and sold, but the explanation of pervasive underinsurance comes down to this: it is a fully mature, largely involuntary market. Unlike car insurance, there is no law mandating that a homeowner have home insurance. But two-thirds of homes in the United States have a mortgage requiring the homeowner to have insurance, and of the remaining third many homeowners voluntarily insure.
The "action" in selling home insurance is in renewals, not new business. In any given year, less than five percent of homes in the United States change hands. Insurance companies estimate that in any given year 90 percent of their business is renewals; new business is only 10 percent.
The importance of renewals to an insurance company has two implications. First, an insurance company never wants an existing customer to wonder whether the customer could buy the same coverage cheaper from someone else. Second, spending large amounts of time generating new business is not a good use of the insurer's time.
Because an insurer does not want to spend much time in placing new business, initial home valuations are low. The software tools the insurance industry uses to value a home can, with a lot of data, produce an accurate valuation. The shortcut approach (inputting address, square footage, and age of the home) takes a very few minutes but undervalues by as much as 50 percent.
Initial under valuations compound over time. Because insurers wish renewals to be seamless, initial valuations are rarely revisited. Home values tend to rise. Revisiting valuation will, more often than not, raise the value, which will raise the premium, which will prompt the homeowner to wonder about whether someone else sells the same coverage cheaper.
Put together these factors and one has an explanation of the primary causes of pervasive underinsurance.
So what should be done? Philosophically, I fall somewhere in-between a pure free market capitalist and a rah-rah-regulationist in trying to address this problem. My goal would be regulations that provide a comfort level that homeowners are setting coverage with open eyes, but then holding homeowners to their choices.
Here is how that can be achieved: Think about the ubiquitous yellow EnergyStar sticker on any home appliance sold in recent years. Every purchaser knows, at a glance, that this sticker is providing them information on how to compare this appliance to like appliances. The same idea could be used for insurance coverage. Every offer of sale or renewal of insurance could be required (by regulation) to have a yellow cover page (formatted just like the EnergyStar sticker) saying to the homeowner in plain English as well as graphically, "Based on what you have told us, here is what your home would cost to rebuild per square foot, here is what the average per square foot construction costs were in your zip code last year, and here is the per square foot coverage this insurance policy would provide; do you want it?"
In the meantime, if you want to make sure you have enough insurance right now, make sure to get a valuation from your insurer in writing, after telling your insurer (in writing) that you want to be fully insured and that you are relying on them to give an accurate valuation. And of course, save those writings (somewhere other than in your house)!
The State Bar of California presented the 2008 President's Pro Bono Service Award to Professor Kenneth Klein for his pro bono work with victims of the 2007 San Diego County wildfires. His proposal to improve property insurance disclosures appeared in the Virginia Journal of Social Policy & the Law.
PROFESSOR KENNETH S. KLEIN // RES IPSA ONLINE