Alumni Affairs
Alumni Profile: Jim Dwyer '87 - A Guru of the Integrative Law Movement
California Western alumnus Jim Dwyer '87 joined his father's law practice soon after graduation, fulfilling a lifelong dream to work as an attorney like his dad. Dwyer's practice thrived, but after nine years, he became so miserable that he walked away from it all thinking: "There has to be more to it than this."
His search to find what was missing brought him to the point where he is today—managing partner of a successful personal injury practice in Portland, Oregon, and a rising voice in the growing integrative law movement who is helping attorneys integrate their work and their personal lives.
"For me, integrative law is about using elements of the practice of law to live our best lives possible as attorneys," say Dwyer.
As a part-time blogger, author, and speaker, Dwyer rises at 4:00 a.m. most mornings to share his insights. He's driven by his intimate understanding of the personal struggles that can plague even the best of attorneys.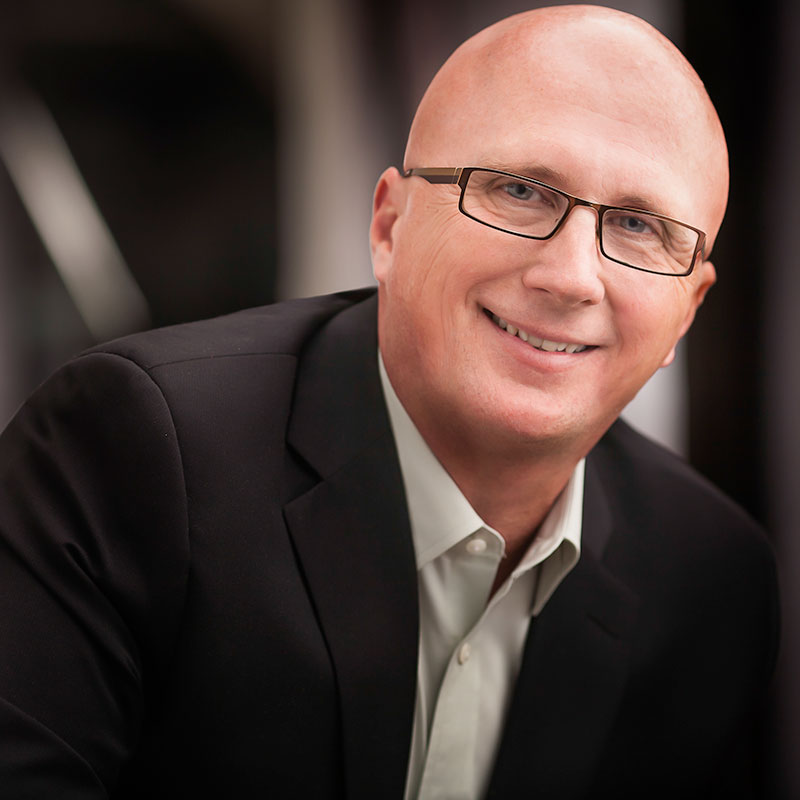 Jim Dwyer '87
HOW DWYER FOUND HIS "SWEET SPOT"
Seventeen years ago, when Dwyer found himself incredibly unhappy at his dad's firm, "I thought I had hermetically sealed off my unhappiness at work from the rest of my life, and I woke up one day realizing I had deceived myself. It was affecting everything."
Finally, with his wife's full support, he quit. Battling looming financial insecurity and self-doubt, Dwyer began cold calling Portland-area attorneys one by one to arrange lunch. "I interviewed literally 39 attorneys looking for the right place for me. None of the lawyers knew I was interviewing them. I called them and said, 'I'm moving up to Portland from Eugene and don't know the legal community very well. Could I take you to lunch and learn a little more from you?'"
Finally one day, magic happened. "Halfway through lunch with the 39th attorney, I thought, 'I want to work with this guy.'"
These kindred spirits have practiced law together since 1998.
What changed?
Dwyer started paying attention to the "sweet spots" during his day when he felt good. He learned his happiness came from truly connecting with his clients. So at work, he said, "I just started seeking out as many of these moments as I could."


THE "SECRET" OF LIFE-WORK BALANCE
What Dwyer has learned is that strong client and personal relationships share many common elements—care, loyalty, and full and frank disclosure. In fact, he says, "the practice of law can be a complement to each one of us as attorneys living our best lives.
"So many of the skills we use in our professional lives we don't apply to ourselves," says Dwyer. "Not being afraid of conflict. Not afraid to lose. Good at risk analysis. Being well prepared.
"Frankly, if we apply these skills to our personal lives, it's amazingly powerful," he says. "When we are advancing our inner life, we are also giving to the ones who mean the most to us."
Dwyer suggests understanding your sweet spots, "those moments when you feel an experience resonating deep inside yourself. By understanding myself better, I was able to start bringing that into the daily practice of law."
Jim Dwyer's website, dedicated to lawyers' personal and professional fulfillment through the practice of law, can be found at tipping-the-scales.com. Dwyer also recommends watching the TED Talk on leadership by Simon Sinek.
Distinguished Alumni Awards a Huge Success

Dean Niels Schaumann (left) with Distinguished Alumni Award winners Tammy Sumontha '00, Charles R. Grebing '70, the Hon. Karen S. Crawford '80, and Michael A. Semanchik '10
California Western's second annual Distinguished Alumni of the Year Awards and Reunion Celebration showcased what it means to be a graduate of the law school and the spirit of pride at the event could not have been more evident.
Hundreds of alumni, faculty, administration, family, and friends of the law school gathered at The Westin San Diego Gaslamp Quarter on September 26, 2015 to honor this year's awardees
at a ceremonial reception, dinner, and awards program—the best attendance the event has ever had.
The honorees spoke of the strong principles the law school instills in students and how these principles have influenced their successful careers.
California Innocence Project staff attorney Michael A. Semanchik '10 was presented with the 2015 Rising Star Award for his exceptional accomplishments.
Tammy Sumontha '00 was presented with the 2015 Outstanding Community Service Award for her volunteer work at ACCESS Inc., an organization that provides job training, education, empowerment opportunities, and immigration assistance to low-income residents.
The 2015 Outstanding Judicial Officer Award was given to the Hon. Karen Shichman Crawford '80, a United States District Court magistrate judge.
Charles R. Grebing '70, honored with the 2015 Alumnus of the Year Award, is senior partner at Wingert Grebing Brubaker & Juskie, and has been honored frequently for his accomplishments and leadership in the legal profession.
The successful evening also marked a reunion celebration for several classes of California Western alumni. The third annual Distinguished Alumni of the Year
Awards and Reunion Celebration will take place on Saturday, September 24, 2016. Nominations begin January 2016.
Alumni to Alumni: Helping Hands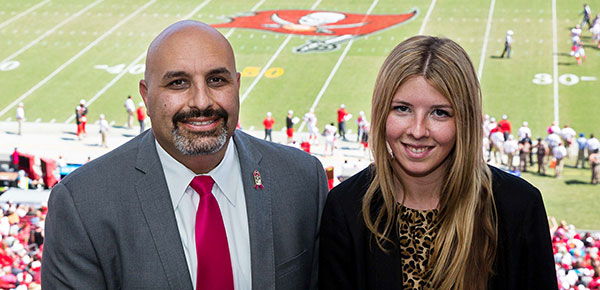 David Cohen '04 and Cassie Sadowitz '12
Just how did California Western School of Law graduate Cassie Sadowitz '12 go from interning at the Los Angeles Angels of Anaheim baseball team to working as an associate counsel at the NFL's Tampa Bay Buccaneers, and then landing a job as deputy general counsel at the Jacksonville Jaguars—all in four years?
There were two reasons for the amazing start of Sadowitz' sports law career: most importantly, she's talented, hardworking, and dedicated. But the other factor is that she had some invaluable assistance from alumnus, David Cohen '04, who hired her as an intern when he was at the Angels, and then made her his number two when he became general counsel at the Buccaneers.
The role Cohen played in boosting Sadowitz is a great example of the benefits that flow from a strong alumni network, says Assistant Dean Courtney Miklusak '98, who leads the school's Career and Professional Development Office (CPDO). Miklusak says alumni networks play an increasingly important and necessary role in one's career development, given the highly competitive nature of today's legal job market.
"Whether it is a fondness for their alma mater or a desire to give back, countless California Western alumni across the country are going out of their way to help our students and fellow graduates," Miklusak says. "These relationships can be a huge win-win because they can be beneficial to both parties. At times, these relationships can be life-changing for the student or alumni receiving help, and extremely rewarding for those who open the doors, offer advice, or even provide a job opportunity. And it continues to enhance California Western's reputation regionally and nationally as a source of outstanding lawyers."
Indeed, America's best-known law schools have long been known for their strong alumni networks, which extend not only to initial hiring of recent graduates but often support the complete arc of graduates' careers. The "old school tie" has rarely been more important than it is today.
No one understands the concept better than Cohen, who says he goes out of his way to find and interview job candidates among California Western alumni.
"As with Cassie, I always hire the best person. When you can also find a way to help others who come from where you did, it's a real bonus. It also helps remove much of the uncertainty in hiring," Cohen says. "I understand what they learned at school, and I know the great skills they developed. Everyone I've hired from California Western has been exceptional. I'm not just saying that because I went there."
No one is more appreciative of Cohen's assistance than Sadowitz.
"From day one, David afforded me the opportunity to challenge myself and learn my skill set from a sports law veteran. I'm so grateful he took a chance and invested in my professional development. David's still a mentor today, both professionally and personally, and I think that's one of reasons I've been eager to provide the same kind of mentoring to other students and alumni through the CPDO at California Western."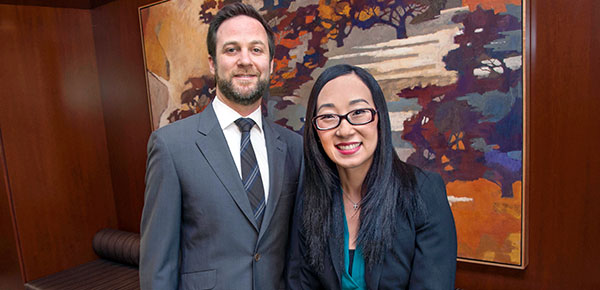 Adam Levine '15 and Anjela Jae Chun '06
Angela Jae Chun '06, an attorney at CaseyGerry in San Diego, shares a similar enthusiasm for helping students and alumni. Several years ago when she was flooded with applications for a law clerk position, Chun found the perfect candidate in Adam Levine '15, who went from law clerk to clinical intern to full-time associate at the firm this past summer.
"The fact that Adam went to California Western was definitely a plus. California Western was so good to me in the excellent education and on-the-job training I received and this was one way I could give back," Chun says. "But I wasn't going to pick someone on that alone. The candidate had to have outstanding grades, a great work ethic, and a great personality. Adam has all of that and has quickly become a really valuable member of our team."
Levine, who spent a decade as an architect before going to California Western, believes alumni connections are important, but says it takes more than that "to seal the deal." Says Levine, "The more alumni connections you can make, the better, and they can definitely help you get a foot in the door. Angela and I had a connection through our shared California Western experience that helped our working relationship get off to the right start. Since then, I've been fortunate to have her guidance while transitioning from school to practice, and to have the opportunity to learn from such a talented attorney. While the alumni connection helps to open doors, in the end, competence is king and you have to prove yourself through hard work no matter where you went to school."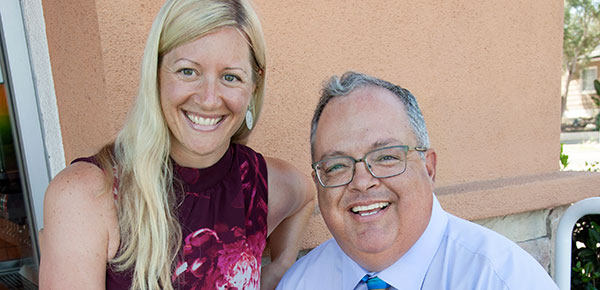 Sue Torke '10 and Art Samora '96
Career help from the alumni network is not limited to providing a job opportunity. Referrals, mentorship, and career consultation can all be invaluable, says the CPDO's Miklusak. Art Samora '96 and Sue Torke '10, patent attorneys at the Navy's Space and Naval Warfare Systems Center Pacific, located in Point Loma, are excellent examples. Torke met Samora when he first interviewed her for an internship position. All final hiring decisions are made on the East Coast, so these two alumni have found other ways to assist current students and alumni.
"I'm a team-oriented person and since California Western is my team, I want to help the school in any way I can," Samora says. "I enjoy providing industry perspective and career advice to alumni and future alumni through California Western's Student Intellectual Property Association. I can't actually hand people a job, but I can sure equip them with the tools to find a job, whether it's showing them how to prepare an effective IP writing sample or how to efficiently access public databases to find those mom-and-pop boutique IP firms that are actually looking to hire IP attorneys."
Torke has chosen membership on California Western's Alumni Association Board of Directors as her way of helping fellow graduates. Torke is also the chair of the Distinguished Alumni of the Year Awards Committee.
Says Torke, "Serving on the board gives me a lot of different ways to help our alumni. One of the board's best features is our informal but highly effective network. Board members rely on their own networks and fellow alums to monitor the job market and match alums to specific job opportunities. I've always felt a strong allegiance to California Western, and with there being two other law schools in town and a very tight job market, it's always exciting when you can help a California Western student or alum with his or her career."
That is an emotion David Cohen feels often these days. When he got together with Sadowitz earlier this season at the Buccaneers-Jaguars game, Cohen was reminded of just how pleased he is about Sadowitz' career and how proud he is to have contributed to its launch.
"It's only a matter of time before Cassie becomes a team general counsel. I couldn't be more thrilled about her career development," Cohen says. "Helping Cassie and other California Western students and alumni is one of the most satisfying things I do. I truly believe our legacy in life lies not within ourselves but in those we help."