GIVING BACK:
Scholarship Honors Late Professor Murray Galinson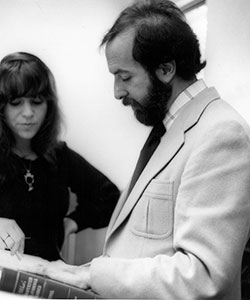 Murray Galinson
As a faculty member, trustee, and beloved member of the California Western community, Murray Galinson inspired those around him. The law school proudly honors his life and legacy through a scholarship recognizing those who inspire and are inspired by the law.
The Murray L. Galinson Scholarship Fund supports incoming students with a passion for the law; those who maintain a commitment to academic achievement, who demonstrate a commitment to service, and who overcome significant personal or family obstacles to attend law school.
Members of the California Western Board of Trustees generously support the Galinson scholarship through personal gifts and the designation of $100,000 to help the endowment grow. Faculty members and graduates from the 1970s have also paid tribute to their colleague and teacher through support of this new fund.
California Western thanks the following inaugural donors:
Scott W. Bader '78
Patricia J. Becker '76
Roy M. Bell '74
Han P. Ching '74
Constance L. Clapp '74
Dean Emeritus Michael H. Dessent
Professor Jessica K. Fink
Hon. Irma E. Gonzalez
Charles R. Grebing '70
Kenneth L. Greenman '71
Gary Hunt


Associate Professor Kenneth S. Klein
Jeffrey D. Lewin '75
Mark P. Mandell '77
Associate Dean Phyllis C. Marion
Jeffrey R. Newport '80
Professor John E. Noyes
Thomas D. Penfield '74
Professor Jackie H. Slotkin
Dean Emeritus Steven R. Smith
Hon. Howard B. Wiener
Arnold W. Winston
To make a gift to support the Murray L. Galinson Scholarship Fund, contact Bill Healy at 619-515-1547 or whealy@cwsl.edu.
// RES IPSA ONLINE