ALUMNI PROFILE:
All Rise for the Honorable
Michael D. Washington '94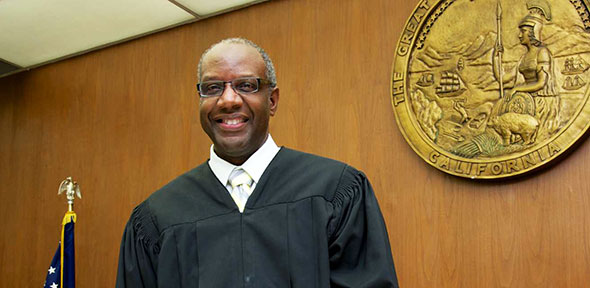 The Hon. Michael D. Washington '94
This past August, Michael D. Washington '94, a distinguished public defender for nearly 20 years, was appointed to the San Diego County Superior Court bench by Gov. Jerry Brown. The San Diego State graduate worked as an accountant for the San Diego Regional Center before deciding he wanted to become a lawyer. A dedicated mentor and trial teams coach, Washington was honored with the Richard D. Westbrook Memorial Award for Outstanding Trial Advocacy and the California Western School of Law Faculty Award for Outstanding Trial Advocacy.
Res Ipsa: Why did you want to become a judge?
Washington: Until recently, I was content being a public defender and had no real desire to become a judge until I traveled to East and West Africa with the Lawyers Without Borders program. There I got to meet remarkable judges who were interested in much more than just sitting in a courtroom making rulings. Their mission was to go out into the community to educate their citizens about the judicial process and why it's critical for a functioning society. Some actually took pay cuts to become judges because they saw it as a way to serve their country. That inspired me to apply to become a judge with an eye to having a positive impact on my own community.
Res Ipsa: What memories do you have of your years at California Western?
Washington: It was a remarkable time in my life because I had some great professors, Art Campbell and Tom Barton come to mind, and the support I receive from Johnnie Estell in the office of Diversity was truly invaluable. I was immersed in an wonderful learning environment that would not only positively influence my personal development and help me establish invaluable relationships, but also equip me with the strong practical legal skills that have been instrumental in the success I've had as a lawyer. What was true for me then I think is still true today: if you want to come to a place where you know someone is invested in your success, California Western is the school.
Res Ipsa: How much of what you learned at California Western prepared you for the bench?
Washington: A tremendous amount, and I wouldn't be a judge today without it. My participation on our outstanding trial team gave me a real confidence in the courtroom. My mentorship with Judge Napoleon Jones and externship with Judge Rudi Brewster gave me an inside look at the court system and how judges work, and they both instilled in me the critical importance of judicial excellence. The school's focus on creative problem solving then and now is one of the most important efforts California Western has ever been involved in. Finally, and maybe most importantly in terms of what I want to accomplish as a judge, there was a real sense that the school-its students and faculty-was not only part of the community, but had an obligation to make the community a better place.
Res Ipsa: How will this influence your work on the bench?
Washington: I believe I can take my judgeship out into the community, to go beyond what a traditional judge does and have a significant impact on how our citizens view and utilize our courts. By speaking, mentoring, and listening, I hope to help reach as many people as I can. For example, I want to change the negative perception among many of our young people who only know about the judicial system because they or someone they know is involved in a criminal proceeding. I want to spark other young people to learn about the system so that they might be inspired to go to law school and become lawyers and judges themselves.
I want to pull back the curtain on the judicial process for people who have no idea what goes on inside a courtroom but need to know in order to be informed citizens. I think it's also critical that I share the story of declining resources, and that our courts are forced to deal with growing caseloads while our budgets shrink due to state cutbacks. One of my important messages will be to help people understand how to avoid the courthouse in the first place, that so many of our conflicts can be resolved without using the expensive, last resort of litigation. So as I connect with our community, I want to build a small army of people who are like-minded and who will go out and raise their own separate small armies of people and generate a positive ripple effect. The potential for me to use my position to positively transform our community is what excites me most about becoming a judge.
BOB ROSS // RES IPSA ONLINE