STUDENT PROFILE:
Changing Careers
Retired Submariner Sets His Sights on a Career in Law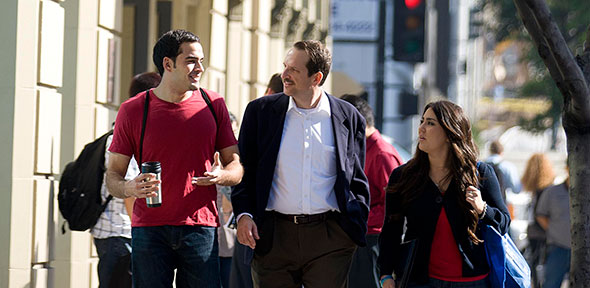 Michael E. Cosgrove (center)
Third-year student Michael E. Cosgrove says the stress of law school is nothing compared to what he experienced in the Navy. Cosgrove served as a "nuke," working with nuclear reactors on submarines, retiring as Master Chief in 2010 after serving 24 years.
"The Navy really prepared me for law school," he says. "They like to say the first year is the most stressful and I half-heartedly joke, 'this is not stress.'"
This past summer, Cosgrove worked for the Department of Justice Antitrust Division in Washington, D.C., through its Summer Legal Intern Program. His work in the Transportation, Energy, and Agriculture Section provided a first-hand look at life in a real law office.
"The Department of Justice-especially the section I was in-operates just like a law office. The collegial attitude and atmosphere showed me what it was like to be part of a team and what it took to work together for a common cause," Cosgrove says. "The manner in which they worked together to get projects done was just phenomenal."
He feels his classes at California Western really prepared him to hit the ground running when he got to Washington, performing tasks often asked of a first-year associate.
"I performed a lot of legal research, and California Western fully prepared me for that aspect of the job," he says. "I walked into the Department of Justice and I didn't have to ask 'where do I find this' or 'where do I go to find that.' Within a few hours I had all the major cases necessary for the legal research I was doing and it was very efficient for me. I honestly don't think I would have been able to have done that without California Western's legal skills training."
The path that led Cosgrove to California Western began early in his Navy career, inspired by a casual remark from a colleague.
"Somebody pulled me aside and said, 'you don't think like a nuke, you think like a lawyer. You may need to change your career aspirations.'" Cosgrove says. "I had certain goals when I joined the Navy and once I attained those goals I started to wonder what I should do when I got out. The more I thought about it, the law just made sense. I felt I could better serve society as a lawyer."
It took Cosgrove one visit to California Western to make up his mind that the law school would be the right fit for him.
"Within weeks of being here at California Western, I knew that I had made the right decision," he says. "It was about the people here, it wasn't about numbers. I felt like they were going to help me obtain my goals. I didn't get that feeling at the other law schools. It was just a different feel, a different attitude, a different culture that I felt here. I felt like I would belong, and it has worked out for the best for me."
CHRIS SAUNDERS // RES IPSA ONLINE