STUDENT PROFILE:
Finding His Voice
How One Special Student Plans to Help Others Find Theirs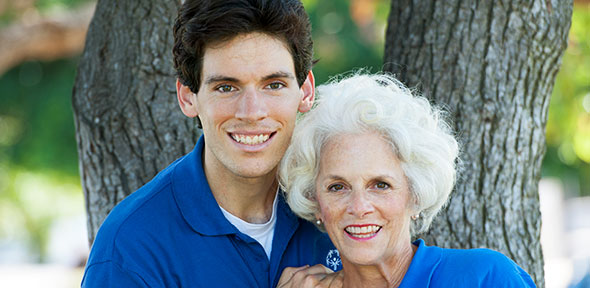 California Western 2L Erik Weber and his mother, Sandy
The diagnosis was devastating: a high fever had suddenly left two-and-a half-year-old Erik Weber autistic. From a healthy, active youngster, Erik had virtually disappeared, losing all motor and language skills. He could only grunt or scream.
That was the beginning of what today, more than two decades later, is one of the most remarkable student stories ever at California Western School of Law.
At the time, the doctor told Weber's parents, Sandy and Richard, that their son would never develop past the mental age of 18-months, and he recommended institutionalizing the child. Fortunately, the couple refused to accept any limitations and devoted their life to helping Weber develop as much as possible.
Their love and dedication to their son paid off in a near-miraculous turnaround. Weber is not only an exceedingly bright and energetic 2L at California Western, he has already earned a master's in public administration, is a star athlete in the Special Olympics, and noted lecturer who has become a passionate advocate for those with special needs.
Along the way, Weber has written two books, Changing Lanes but Staying on Track, and Autism for Dads: The Importance of a Father's Love, which he dedicated to his father who died when Weber was eight. The book addresses the challenges rising from the statistic showing more than 50 percent of fathers of children diagnosed with autism leave their families. That was not a problem in the Weber family.
"I have to credit my mom and dad for putting their lives on hold for me and never giving up. They tried every type of therapy and rehabilitation technique, including inventing several new cognitive approaches, to pull me out of my shell," Weber says. "Once I began to progress, I developed my own can-do attitude to the point where today I truly believe there isn't anything I can't do if I put my mind to it."
What Weber will soon be using that mind for excites him like few other efforts, because he knows they will be life changing for him and others. Weber plans a public service legal career in which he can combine his skills as a lawyer with his experience as a person with special needs to assist those facing legal issues surrounding their disabilities.
California Western has been the perfect place to acquire those skills, Weber says.
"The education here has been superb and I've had some really great teachers. Everyone in the school is really friendly and I've been treated with nothing but respect and dignity. One of my favorite classes, and one that's going to really help in my career, is Mediation Advocacy, where I've learned the principles of persuasion, listening techniques, and communication skills."
Weber can't wait to get out in the real world to flex those new skills.
"They're going to be hugely important for what I'll face, because although we've made a lot of progress since the late '80s and early '90s, there's still a tremendous amount of discrimination in the workplace and mistreatment of those with special needs that I'm going to help eliminate."
Weber adds, "Most of my accomplishments will probably be small, but as they accumulate, I believe they will add up to something important. It's sort of like the steps I've taken in my own life. They've been small victories, but over time, they've cumulatively added up to something very special that has given me a purpose in life and a voice. I'm really looking forward to helping other people develop their own voice."
BOB ROSS // RES IPSA ONLINE