FACULTY PROFILE:
Phyllis C. Marion
Helping Define the Modern Law Library
HIGHLIGHTS:
J.D., William Mitchell College of Law [magna cum laude]
M.A., University of Chicago
B.A., Michigan State University [cum laude]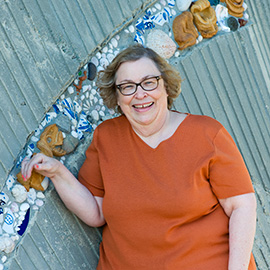 There are few institutions at a law school more complex, more utilized, and ultimately more valuable than the library. And if its most important role is to illuminate through the dissemination of knowledge, then Phyllis Marion serves as a most trusted and capable keeper of the light in her job as Associate Dean for Library and Information Services.
With more than four decades of law library experience, Marion's abilities cover a remarkable spectrum that stretches from the days when only books and microfilm filled the shelves, to today, when a blazing-fast revolution in information and educational technology brings equal measures of breathtaking efficiency and unanticipated informational risks.
The breadth of Marion's skills were critical in the years leading up to Jan. 2, 2000, when California Western opened what came to be known as "the first new law library of the 21st Century." Marion had a vision of what the library should be, and she and a committee of faculty and staff worked hard to make sure the new facility was designed with the most advanced technology of its day, including wiring every carrel with Internet access.
"It's really amazing to think that 12 years have gone by and the library still seems new," Marion says. "With the addition of wireless capabilities when that became available, the library is still among the most technologically advanced law libraries in the country and continues to be a popular academic refuge and working laboratory for both students and faculty."
California Western could not have made a better choice when it brought Marion on board in 1995. Her love of books and libraries dated back to when she volunteered at her local library in Jackson, Mich., but she didn't get serious about the field until after she graduated with a degree in English from Michigan State University and decided to go to University of Chicago's library school, one of the best in the nation.
After she got her masters, Marion spent 14 years at the University of Minnesota's law school library, rising to associate director before moving onto to a similar post at William Mitchell Law School in St. Paul, where she was enticed with an offer of free tuition.
"I knew getting a law degree would be critical for my career," Marion says. "I needed to have a much better understanding of the law student experience and at the same time the huge gain in knowledge of the law itself has been extremely beneficial over the years. From a very practical standpoint, I also knew I could never become the director of a law library without the degree."
Ten years later, Marion's foresight came to fruition when she was hired to head the library at California Western. Her primary challenge today is to make accessible and comprehensible the vast amount of information that's available through myriad media, old and new.
"Books are not dead," she says. "We still buy them, they still play an important role and I'm always excited when I see someone using them in the stacks," she said. "But there's no question technology has in so many ways transformed the landscape for law libraries, literally changing how we carry out our jobs thanks to an increasingly digital environment.
A good example is that one of our most important duties now is showing students who are otherwise so technically savvy that technology is both a blessing and a curse, that it not only doesn't answer all the questions, it can actually lead them down the wrong path if they're not careful. Yes, we have the capability to gather enormous amounts of information in seconds, but it's not all good information and much of it hasn't been vetted. We specialize in helping students find the best and most legitimate sources of information online. We show them how to go beyond the quick results at the top of search engines, to dig deeper and find the most accurate and appropriate source."
Marion says one of her key accomplishments has been the development of her staff of 15 into a top-notch team that is not only capable, but excited and eager, to carry out their duties in a challenging and constantly shifting environment.
"I'm so proud of their ability and willingness to embrace change through the additional training and study that's required to remain up-to-date substantively and technologically," Marion says. "Their commitment, along with their dedication to helping our students and faculty with any need, is why California Western has such an outstanding library."
BOB ROSS // RES IPSA ONLINE