AN INSPIRED CHOICE:
Meet Dean Niels Schaumann
With legal education facing some of its most serious challenges to date, few decisions have been more critical in California Western's history than the selection of the school's new President and Dean.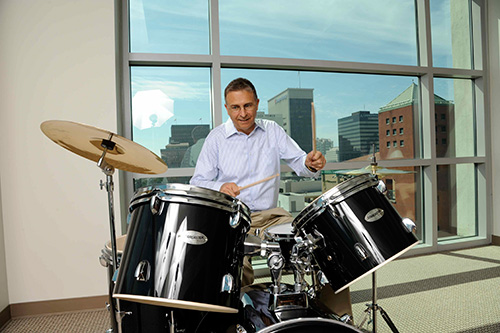 Dean Schaumann playing drums
You don't have to spend much time with Niels B. Schaumann to realize the selection last spring of this longtime law school professor and administrator was an inspired choice. As the former Vice Dean for Faculty at William Mitchell College of Law, the 55-year-old Schaumann's academic credentials are impeccable. But it's his high energy, friendly enthusiasm, and ambitious vision for leading California Western to a higher level that are generating real excitement on campus.
How ambitious are Schaumann's goals?
"I believe we can make California Western the leading provider of practical legal education in Southern California," he says. "I know that sounds bold and I realize it won't happen overnight, but one of the reasons I'm so confident is because of what we already have in place. Thanks to the solid foundation created under Dean Smith's leadership, California Western already has an excellent head start down the path I want to take us."
Schaumann's own path started in the mid-1950s in a small town on Long Island where he was born and raised as a first generation American by his German immigrant parents. Growing up, music was Schaumann's first love and he majored in that subject as a drummer at State University of New York at Plattsburg. After graduation, he headed to New York City to try to make it as a professional rock musician.
"I was hoping for fame and fortune, and you can see what happened," Schaumann says with a laugh. "But I did give it four and a half years. I was pretty good and I got a bunch of low-paying gigs, but there was a whole lot of competition from musicians who were way more talented than I was. My only claim to fame was that a girl named Cyndi Lauper opened for my band. We stood backstage and looked at this goofy unknown singer with the funny voice and predicted she'd go nowhere. Good thing I didn't try to be an A&R man, isn't it?"
Schaumann noticed that the entertainment lawyers always hovering around the music business seemed prosperous. Just as he was thinking, "I bet I can do that," he spotted an LSAT prep book in a roadie's truck and borrowed it. A few weeks later on a Saturday morning after getting home from a gig at 4 a.m., Schaumann took the test and scored high enough to receive offers from several law schools.
Schaumann chose Fordham Law School, where he served as managing editor of the law review and graduated cum laude in 1984. After clerking for a U.S. Circuit Court of Appeals judge, Schaumann joined the prestigious Wall Street firm of Cravath Swaine & Moore, where he practiced corporate and securities law for four years. It was a great learning experience, but ultimately he realized he needed something more personally rewarding.
"I became intrigued by the idea of studying law as an intellectual pursuit," Schaumann says. "I was really interested in learning more about what I believe is a fundamentally noble enterprise. To me law represent human species' best attempt to govern themselves in a way that minimizes violence and bloodshed and that results in justice to the greatest extent possible.
Schaumann landed an assistant professor job at William Mitchell and quickly realized he had finally found his true calling. For the next 23 years he taught, conducted research, published articles and books, and became a national authority and expert witness on copyright law and securities regulation.
"I had a great time," Schaumann says. "Becoming a teacher turned out to be much harder work than I expected because I needed to gain a lot more knowledge about my subjects if I was going to explain the 'whys' behind the law. But I loved being in the classroom. It was fun, like doing a show, with all the adrenalin, and I found it so rewarding to watch light bulbs go off in my students' minds and realize I had a hand in it.
Schaumann is fully aware that in taking the top job at California Western, he's accepting a challenge several magnitudes greater than he's ever faced before, especially given the state of the economy, and the increasing scrutiny on legal education by government and media.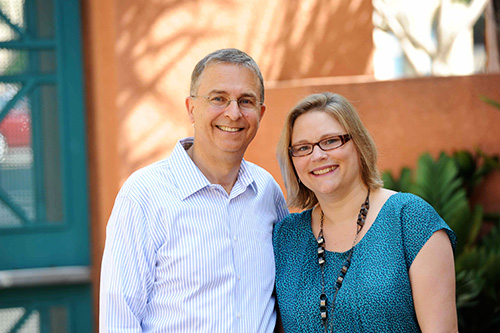 Dean Schaumann with Carla
But if Schaumann feels any pressure, he doesn't show it. Quite the contrary: in just his first few weeks on the job, the new Dean not only identified some of the problems, he's already working on solutions. He's formulating strategies to expand the applicant pool nationally, contain costs while boosting efficiencies, stop the rise in tuition, increase philanthropy, and significantly raise the recognition he believes California Western deserves to have in the San Diego community.
But by far the core issue in Schaumann's mind is that legal education needs to change dramatically, from an overly theoretical model he believes "essentially hasn't changed much since the 19th Century" to one providing a practical, experiential education that properly trains lawyers to be productive from their first day on the job, something other fields like medicine and engineering do as a matter of course.
"I think it's crucial for California Western to identify the specific needs of those who hire our graduates and reverse engineer our curriculum to make sure we're providing the training that will lead to those outcomes. That will eliminate much of the need for the on-the-job training that law schools have traditionally left to unhappy employers, who themselves are under increasing pressure from clients who don't like paying for it."
Among the reasons Schaumann wanted to come to California Western was that he saw a school already ahead of the game in many areas of practical education, including strong internship and mentorship programs. He also felt like he could work well with the people in place at the school.
"I knew they were impressive, but now that I've been here awhile I can tell you that across the board, from faculty to staff to students, the caliber and dedication of the people here at California Western has exceeded my already high expectations," Schaumann says. "This is critical, because our ability to move forward will depend heavily on how well I harness the collective wisdom of this great team."
Schaumann is looking forward to leading that team into battle.
"With legal education on the cusp of serious change, we'll need the talent, experience, and commitment of everyone at California Western to re-shape our future. We'll make sure the school isn't just part of the coming change, but a driving force in what really is a transformation of how lawyers are trained. If we accomplish what I know we're capable of, I believe some day very soon California Western will be recognized as one of the true leaders in 21st Century legal education."
Alumni Play Key Role in Transformation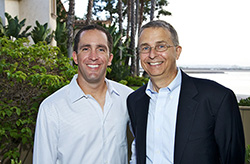 Dean Schaumann with Christopher Lawson '05 at Alumni Weekend 2012
In Dean Niels Schaumann's plan to transform California Western, a group of people who aren't part of the daily ebb and flow on campus will play a key role in shaping the future of the school: the alumni.
Schaumann believes those who have graduated from California Western - whether this past spring or 40 years ago - represent a mostly untapped resource.
"I call our alumni the hidden treasure of the school," he says. "We have a small core of dedicated graduates on the Board of Trustees and the alumni board, but there are so many more alumni around the country who have never become involved in the school to whom we need to reach out. It's a high priority for me to find ways to do that, whether it's keeping them better informed about what the school is doing, asking them what they want from us, or finding ways to deliver value to them, like CLE programs and networking opportunities.
He adds, "Alumni represent a tremendous opportunity for us, quite apart from any financial contribution they might be in a position to make. We should, for example, be asking them what curricular changes would make our graduates more competitive, and we should continue to ask them to provide internships and mentoring. I believe they'll step up, because most of them have a real interest and stake in improving the reputation of their alma mater."
For their part, the alumni are ready and eager to lend their support, says Christopher M. Lawson '05, Alumni Association Board President.
"The arrival of Dean Schaumann has energized the entire school," Lawson says. "The alumni I've talked with are excited about his ability to take California Western to an even higher level. We agree with the Dean that our large and growing alumni base, diverse in background and career path, offers the practical experience and insight that will be invaluable in reshaping the way students are trained."
BOB ROSS // RES IPSA ONLINE