STUDENT PERSPECTIVE:
Karima Masri
Internship Program Helps Prepare Students for Practice at Home and Abroad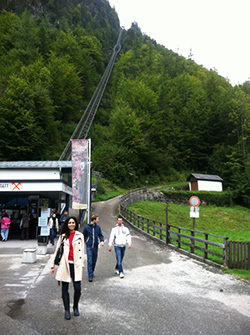 Karima Masri '13
Third-year student Karima Masri is in Vienna, Austria this trimester as an intern with the United Nations. Through the Clinical Internship Program at California Western, Masri will gain valuable skills and experience that will help her bridge the gap between the classroom and practice. She recently shared this first-person account with Res Ipsa.
California Western helped me find the internship I have always dreamed of, with the United Nations Office of Drugs and Crime (UNODC) for the Division for Treaty Affairs in the Human Trafficking and Migrant Smuggling Section in Vienna, Austria. I work roughly 40 hours per week doing work that I completely love and am fascinated by.
The UNODC recently launched the Case Law Database, which includes human trafficking cases from around the world. It serves as a tool for prosecutors and judges and assists the UN in tracking the world-wide implementation and interpretation of the Protocol to Prevent, Suppress and Punish Trafficking in Persons. I have read and briefed cases from countries including Colombia and Argentina which will be added to the database. I also translated a human trafficking law that will be put into effect in the future, so that my supervisor may revise it and make suggestions to that member state.
I am also working on UN.Gift.Hub, a human trafficking initiative. I communicate with permanent field offices that would like to use U.N. tools in order to train law enforcement, as well as with private entities which would like to use U.N. material and tools to train staff in issues related to human trafficking.
In October, I worked on the Sixth Session of the Conference of the Parties to the United Nations Convention against Transnational Organized Crime, which included member states from around the world. Other projects include a webinar for students studying law in the university, which will take place in December, and assisting an Expert Group Meeting where experts from around the world exchanged ideas on how to improve the case law database and shared their observations of human trafficking in their jurisdiction.
Knowing more than one language is extremely important for those working in the U.N., so I am taking French classes provided by the United Nations as a staff development benefit. I studied French for several years but would like to improve my fluency in order to brief cases in French.
To learn more about California Western's Clinical Internship Program, visit www.CaliforniaWestern.edu.
// RES IPSA ONLINE