FREEING THE INNOCENT:
How California Western helped put Brian Banks back on
the path to his dream of playing professional football
It took 10 years - and the intervention of the California Innocence Project - to help Brian Banks get his life back. Now he's advocating on behalf of others while pursuing a dream delayed.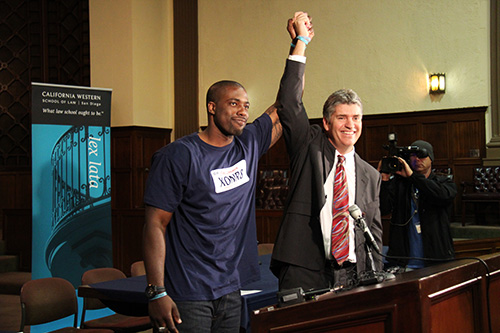 California Innocence Project Director Justin Brooks and recent exoneree Brian Banks
At 8:30 a.m. on May 24, Brian Banks was in a Long Beach courtroom flanked by co-counsels, Justin P. Brooks and Alissa L. Bjerkhoel of the California Innocence Project. He dared hope he finally would be exonerated of a crime he didn't commit - the rape of a high school classmate.
By 8:35, it was over. Superior Court Judge Mark C. Kim ruled to reverse Banks' conviction. At the defense table, Banks lowered his head onto his arms and cried. His mother shrieked from her seat in the courtroom. Bjerkhoel tried unsuccessfully to hold back her tears.
Finally, Banks stood and donned a black sweatshirt emblazoned with one word, "Innocent," over his long-sleeved white shirt. When he and Brooks emerged from the courthouse to face a phalanx of television cameras, photographers, and reporters, the two clasped hands and raised their arms in a victory salute.
He felt like a pariah when he walked into the courtroom that Thursday morning, but suddenly he was a hero and everyone wanted a piece of him. Banks answered questions for nearly an hour, standing with his attorneys or squeezed between the two people who never gave up on him, his parents.
How did he feel now that he had been exonerated? Did he hold any animosity toward his accuser who later recanted? What did he think of a system that allowed a 17-year-old to plead guilty without giving him enough time to talk the deal over with his parents?
Then, he left the courthouse with his family and his lawyers for a victory party at a friend's house. Phones rang nonstop, as the Los Angeles Times, ABC, NBC, the Associated Press and other media called to talk to Banks.
"I never smiled the way I smiled that day," he says.
Back in 2002, the star linebacker at Long Beach Polytechnic High School had verbally accepted a full scholarship to USC and dreamed of a career in the NFL. Everything came crashing down July 8 when he and a summer school classmate went to a stairwell at the school called "the make-out spot."
She said Banks kidnapped and raped her; he said they kissed and fondled, but there was no sexual intercourse. Banks was arrested later that day and taken to Juvenile Hall. As he was about to go to trial and facing a sentence of 41 years to life, Banks accepted a deal and pleaded no contest to one count of forcible rape. The teenager had 10 minutes to decide and was not given time to call his mother to talk it over. His attorney told him he would serve 18 months, at most. He wouldn't get out of prison until Aug. 29, 2007, five years and two months later.
Last year, his accuser contacted him on Facebook and agreed to a meeting, where an investigator secretly taped her saying she had lied. With new evidence in hand, the California Innocence Project was finally able to help Banks prove his innocence.
In the days following his exoneration, Banks got texts from Gayle King and Katie Couric, offers of book and movie deals, and calls from sports agents asking to represent him. Eight different NFL teams expressed interest. Brooks, Director of the California Innocence Project, found himself fielding those calls as Banks recounted his story again and again.
After workouts and tryouts with teams including the San Francisco 49ers, Seattle Seahawks, and San Diego Chargers, Banks signed a contract with the United Football League's Las Vegas Locomotives. Students and staff from the California Innocence Project traveled to Las Vegas in September to watch Banks finally take the field as a professional football player.
While the suspension of the league's 2012 season put Banks' football career on hold, he remains undaunted, continuing to work on his upcoming documentary, pursuing speaking engagements, and advocating for the wrongfully convicted. He recently helped the California Innocence Project deliver thousands of petitions in support of project clients Daniel Larsen and Jason Puracal.
Attorneys Brooks and Bjerkhoel said the journey to absolution can be long. Each year thousands of people contact the project, but fewer than 100 cases per year meet their strict criteria for approval.
Banks' case was unique in that it was the first one where they agreed to represent an inmate who had already been released. They did it, Brooks says, because Banks was innocent and, as a registered sex offender, was serving a life sentence. Banks himself was turned away twice before the taped recantation provided Brooks and his team the new evidence they needed to build a case.
"I wish every case was resolved as quickly as Brian's," says Brooks, "but with his help we will continue to pursue justice for the wrongly convicted, no matter how long it takes."
PHOTO GALLERY
EXONERATION DAY
MEDIA EVENT AT CALIFORNIA WESTERN

OTHER EVENTS
SUSAN GEMBROWSKI // RES IPSA ONLINE