WEB EXCLUSIVE:
From Study Partner to Life Partner
Law School Experience Leads to Lifelong Partnership
One hears the stories and statistics all too often - law school can be tough on couples and marriages. These committed California Western relationships, which either began or were strengthened during their years on campus, are submitted as evidence that the statistics only tell part of the story.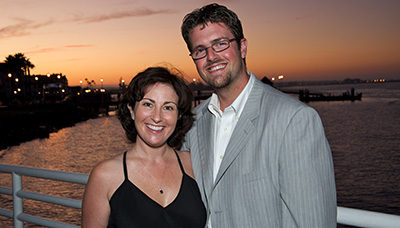 When Christina Dorey Ciceron '04 and Keith Ciceron '04 began their first year at California Western, they were keenly aware of the toll that law school can have on relationships. Christina and Keith came to California Western from the East Coast, where they met and started dating as undergraduates. They were eager to earn law degrees and see how their relationship would develop outside of the familiarity of the places where they grew up.
"After the first year, I thought that this was going to work. We hadn't really lived together, just the two of us. Once we moved in together in California, we were relying on each other. We became closer," says Keith.
"A lot of couples go to law school and get competitive with each other. We worked as a team - we decided to help one another rather than compete," says Christina.
Their mutual support paid dividends - both wrote for the Law Review and Keith helped to found an intellectual property student organization while Christina participated in SBA and Trial Team. "We became our own study group," says Keith.
During their third year of law school, they became engaged and at graduation, where Christina was the commencement speaker, California Western publicly announced their engagement to the applause of their classmates.
Since graduating, Keith and Christina have found their respective niches in the law - Keith practices at Farmer Case & Fedor doing insurance defense litigation, and Christina practices at Silldorf & Levine, LLP, where her focus is on marketing and business development for the firm.
For Eden '07 and Kyle Yaege '06 (pictured above), California Western was the start of their relationship. They met in a study group during their first semester and were engaged about a year after they began dating. Kyle says their relationship improved his study habits. "I think Eden helped my GPA through osmosis - she helped me focus my studies," he says.
Kyle has a solo practice in San Diego, with a focus on commercial real estate and employment litigation, and Eden works in transactional real estate law. The challenge for them as married lawyers, says Eden, is separating work from life outside the office.
"We're so excited about what we're doing and we will talk about cases," she says. "But we're learning how to separate home life from the office."
---
JOSHUA ROMERO • RES IPSA ONLINE