SIDEBAR:
Street Law San Diego
Showing Youth a Positive Side of the Legal System

For many inner city youth, the legal system is something to be afraid of or avoided at all costs. Fortunately, that perception is changing in the minds of growing numbers of young people who have gone through Street Law San Diego at California Western. The Institute for Criminal Defense Advocacy created the program in 2004, modeling it on the original Street Law program founded at Georgetown University Law Center. Taught by law students, Street Law is a practical, participatory educational program that explains law, democracy, and human rights over an eleven week period.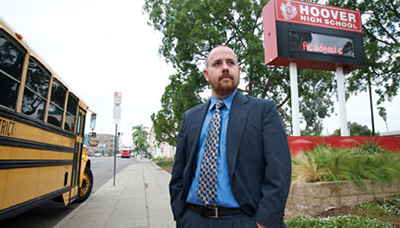 "These young people have really had their eyes opened and have become knowledgeable about how the legal system works and how it can actually be a positive force in their lives," says Street Law Director Alex Simpson '04 (above). "It's kept some from getting in trouble, made almost all of them better students, and intrigued others enough that they've decided they want to go to college and become lawyers."
---
BOB ROSS • RES IPSA ONLINE