STORY:
Balancing Legal Studies with Military Service
San Diego County is home to some of the largest military installations in the world. From the base at Camp Pendleton, to the vessels moored in San Diego Bay, to the elite SEALS training facilities on Coronado's North Island, the greater San Diego region is a hub for the nation's armed forces.
It is no surprise, then, that California Western has its own connections to the military. Professors, staff, supporters, and friends of the law school have all shared in serving their country through military duty. But no other service is felt quite as intensely as the duty served by those current students who somehow find the way to balance a rigorous academic schedule with military responsibilities.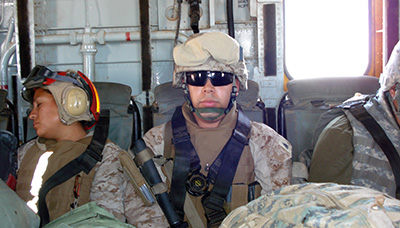 When students approach school administration seeking accommodations to fulfill their military responsibilities, they find a faculty and staff that are eager to provide support.
Nick Cohen-Meyer, a 2L and Navy petty officer third class, appreciates the assistance California Western has given him.
"California Western has been extremely helpful in their accommodations," says Cohen-Meyer, adding with a smile, "I wouldn't choose to go anywhere else." For Cohen-Meyer, law school is a necessary step in achieving his sole career aspiration - becoming a Navy or Marine judge advocate general.
"What students learn in law school is the same as the skills they need for the real world," says Professor William C. Lynch, who served as a judge advocate in the Navy for 22 years. "Here, we give students the tools they need to succeed in the legal world. Until students do the work, those skills aren't realized."
Heliodoro Moreno (above and below), Jr., an Individual Ready Reserve member of the Marine Corps, served active duty from 2002 to 2006, before becoming a part of the reserves. He recently returned from his first tour of duty in Iraq and Afghanistan, where he worked for the staff judge advocate for eight months. Like Cohen-Meyer, Moreno sees the value of serving the armed forces while attending law school.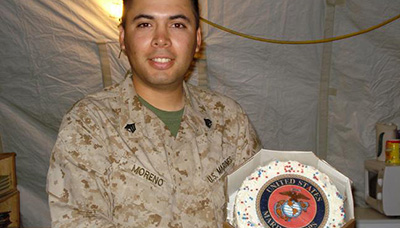 "I have learned tremendously from the Corps that helps me in all facets of life, and law school is no exception," says Moreno. "I learned discipline, time management, and mission accomplishment."
Moreno worked on cases for both the prosecutor and regional defense counsel while on duty. His workload included everything from criminal prosecutions to administrative and international law.
While Cohen-Meyer's choice to remain on active duty instead of being in the reserves does not afford him courtroom opportunities, he sees the value of serving his country while attending law school.
"The discipline I've learned in the military has helped me in my academic work, and in all other aspects of my life," says Cohen-Meyer.
These opportunities for learning and growth do not come without sacrifices.
"Balancing law school and naval duties is overwhelming at times," says Cohen-Meyer. "I had a two-week absence from school to perform my annual Navy training. This was a big challenge since I was taking a full load of classes."
For Moreno, his sacrifices are hidden in the words of praise for his tour.
"Although I had to leave school and be away from family, I received great experience working for the SJA," says Moreno.
Cohen-Meyer and Moreno represent an oft-unseen part of the California Western family, a group of men and women who freely give of their time and energy to serve the country. They do this while pursuing legal degrees and managing the workload that comes with such an academic endeavor.
California Western celebrates the unique perspective and experience all of its students bring to the classroom and the life of the school.
---
JOSHUA ROMERO • RES IPSA ONLINE