STORY:
All in the Family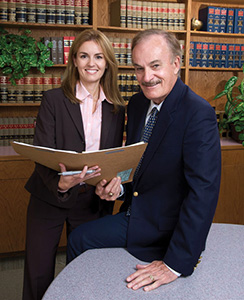 It's a little bit of nature and a little bit of nurture for California Western legacy families who share a common path to the law.
Kelly Hinds Greenman '05 still remembers going to her father's downtown San Diego law office as a child. She would spend the occasional afternoon manually putting supplements in law books. She knew even then that, like her father Ken Greenman '71, she had a propensity for organization. Following in her father's footsteps, Kelly attended the University of Southern California as an undergraduate. As she contemplated her next steps after graduation, the lure of the law and the inspiration of her father's distinguished legal career prompted her to begin the process of researching law schools. After looking at various schools, Kelly realized she wanted to return to San Diego for her studies.
"I was pleased to hear that she was considering law school," says Greenman, who has been chair of California Western's Board of Trustees since 2001. "Naturally, I told her that if you're going to law school in San Diego, there's only one law school."
When Kelly began her first year at California Western, she had the distinct advantage of building upon the lessons her father learned more than 35 years ago when he was a first-year student. "My dad was very realistic - I knew going into it that it wasn't going to be a repeat of the undergraduate experience," she says.
Kelly thrived at California Western, and when she graduated she had a unique experience that will last well beyond her legal career. "My dad hooded me and his signature is on my diploma," Kelly recalls. The Greenmans' story is one of many California Western legacy stories - while the paths of sons and daughters who followed their parents to the school diverge, the ties that bind these families together endure.