WEB EXCLUSIVE:
Balancing Academics, Service on the Home Front
Change, Uncertainty Complicate the Study of Law for Military Spouses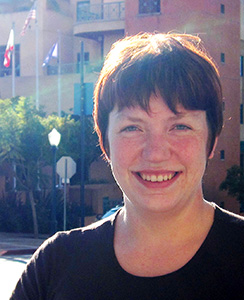 In the Fall 2009 issue of Res Ipsa, California Western recognizes the many sacrifices and contributions made by students who are currently enlisted in the military or serving as reservists. While these students have their own unique challenges in attending law school and fulfilling military responsibilities, there is another group of students making sacrifices to ensure the success of a voluntary military. The spouses and partners of those in the military each make their own contributions to the armed forces.
Tara Gaston (right), a 3L, is married to Lieutenant Shafer Gaston aboard the USS Hampton based at Naval Base Point Loma.
"Uncertainty is the major challenge that I face while Shafer is in the military," Gaston says. "I literally never know when he will be home or not, or if he will be called to the ship."
The challenge is particularly difficult for this mother of two. Her children, Gavin Pierce, 8, and Miriam Badon, 2, still need their mother's attention when their dad is away from home.
"While others in law school have their partners for support, it is a little different to have your support taken away at random times," says Gaston. "In addition to having my partner gone and in danger, I also have to help our children deal with their father's absence. It's an interesting life."
Kathleen (Charapata) Sweeney's, a 3L whose husband serves in the Navy, understands the challenges of having a partner in the military while attending law school.
"The military is a unique restraint on our life," says Sweeney. "His obligation to the military certainly has the potential to disrupt my studies."
She originally planned to attend law school in St. Louis in the fall of 2007. When the Navy decided to move her husband to San Diego before the start of the semester, she contacted California Western in the late summer to work with Admissions on an application and enrollment. She was accepted just in time to start the trimester.
"Luckily, we anticipate we will stay in San Diego through my graduation," Sweeney says.
Lucia A. Thayer '09 is married to Lieutenant Junior Grade Kyle Thayer, a submarine communications officer. Her husband has been stationed at Naval Base Point Loma since November 2007. Kyle was training in Connecticut the first two months Thayer was in law school, then he was gone two-thirds of the couple's first year in San Diego.
"I know a lot of people rely a lot more on their friends in family in law school because they're so busy," says Thayer. "But my experience is different because essentially the roles are reversed - you are the support system."
Many of these students struggle with achieving their academic goals while supporting their military families.
"As a student, my priority is my academic performance, but the mental and emotional strain of a deployment may undermine that priority," says Sweeney.
Her husband was deployed to Iraq for 13 months on the first day of her second semester at California Western.
The students appreciate that the law school does what it can to accommodate students of military families.
"California Western has been most supportive and understanding of the challenges that I face," says Gaston. "Both administrative personnel and faculty have remembered me, asked how things were, and asked if there was anything I needed."
Thayer appreciates the flexibility that professors had when she chose to visit her husband while he was deployed abroad.
"I essentially I told all of my teachers, 'I will be leaving, but I can't tell you when, because it's classified. I won't know until the last minute,'" says Thayer. "And they were cool with that."
That flexibility is just one of many ways in which California Western supports its students while providing a rigorous and innovative curriculum. The law school commends those students who support their partners and spouses in the armed forces.
---
JOSHUA ROMERO • RES IPSA ONLINE